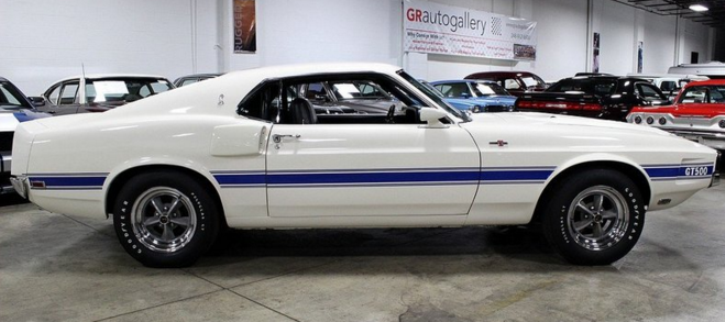 Super Clean 1969 Shelby GT500!
In 1969, the Cobra tag was taken away from the GT's and they were simply marketed as Shelby GT500 and Shelby GT350. Both models experienced a major face lift in 1969. The body of the car was increased by four inches in length (100 mm). The main designing and styling changes were made by Ford, with a little contribution by Shelby.
This 1969 Mustang Shelby GT500 have its hood and front fenders made from fiberglass. It also featured a distinct extended nose, giving it a very different appearance from the Mustang. The interiors of the car were set in black and it had a very simplistic VIN number. In total, 2,361 1969 Mustang GT500 were produced.
Fully restored by SRI Automotive this 1969 Mustang GT500 had several exciting features including a power steering, sport-deck rear seats, front-disc power brakes, FM/AM stereo radio, deluxe belts, tilt-away steering, tachometer, alternating windshield wipers, and so on. The interior of the car also featured a beautiful center console and luxury leather sports seats. The engine of the 1969 Ford GT500 is a powerful 428 Cobra Jet V8 linked to an Auto transmission.
Check out the video brought to you by GR Auto Gallery. Watch, Enjoy & Share!