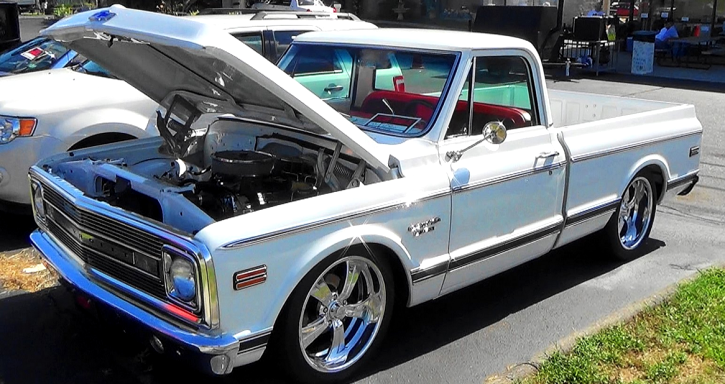 Nicely Built 1969 Chevrolet C10!
Those of you who don't like the slammed to the ground, all chromed out show trucks, but prefer a nice and clean rides looking more like back in the day will be more than pleased to see this beautiful 1969 Chevy C10 pick up. It doesn't have any body mods or a blown V8 monster under the hood and actually looks mostly stock.
With a sharp exterior painted in White, good looking bed, right stance and cool wheels which are the only thing giving it a bit of a modern look this Chevrolet C10 is the perfect truck for the classic bow tie enthusiast.
The interior is also kept pretty much original with just a few custom touches and looks stunning finished in White & Red. The power comes from 350 Small Block Chevy motor fitted with some Edelbrock goodies for better performance.
Scottie has filmed this '69 Chevy C10 street truck at the Pigeon Forge Rod Run. Watch, Enjoy & Share!
Don't miss on Hot Cars: 1100hp 1969 Chevy C10 Truck "The Preacher"