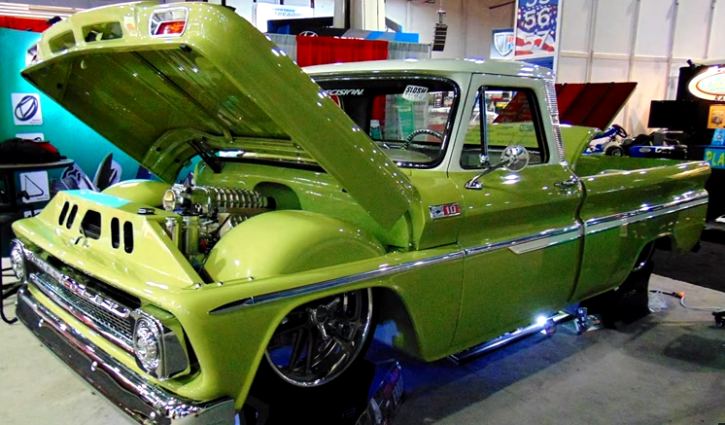 Chevrolet C10 Boosted Bertha by Slosh Tubz!
The 1965 Chevy C10 is a favorite amongst American truck enthusiasts and of course there are many over-the-top designs in the market. But Mike Slosh's custom built C10 pick up called Boosted Bertha is a classy work of art that stands out from the crowd in both looks and performance!
The first thing you notice about this fully customized Chevy truck is the stylish and cool Mango Green color that blends in perfectly with the chrome bumpers, grille and Budnik Magnesium rims. As usual Mike has used AccuAir suspension and I believe you'll admit the Boosted Bertha C10 truck has a killer stance. The interiors are done in simple chrome and light Gray with a set of custom gauges and other cool modifications so you will be comfortable as you take over the street!
The custom built Chevrolet C10 truck comes with a 6.0 liter engine that is accompanied with a supercharger unit manufactured by Magneson. The power from the engine goes through a TCI transmission and a rear-end axle that comes from Currie. To handle this massive power, the 1965 Chevy C10 is fitted with performance shocks and a performance carbon fiber driveshaft, both from QA1. With the heavy performance mods, Boosted Bertha is bound to leave most other customized street trucks in the dust!
Check out the interview with Mike Slosh filmed at SEMA 2015. Watch, Enjoy & Share!