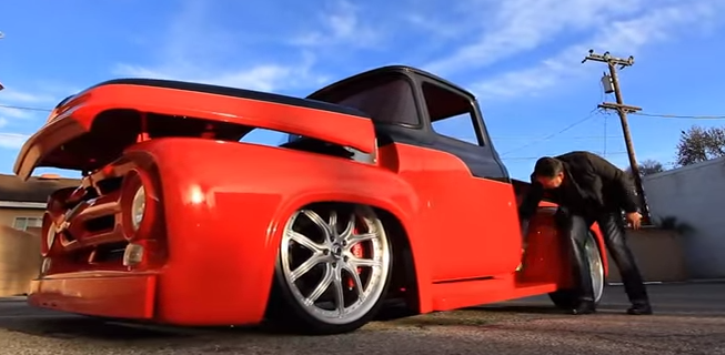 Truck Of The Year & Best In Class at GNRS.
The 1956 Ford F-100 American pick up truck described here represented an excellent example of a modern Custom Show Truck conversion. While retaining the basic external looks and characteristics of this 58 year old classic automobile, this now rare '56 Ford F-100 now features virtually all the luxury items and creature comforts that you might find in a modern high performance sport pick-up truck.
Features such as high performance "Vaughn Gitten Jr. 5.0" motor, 6 speed manual transmission, power front and rear disc brakes, power rack and pinion steering, air ride suspension system, a luxury red leather upholstered interior, power windows, solenoid operated doors as well as a sophisticated state of the art keyless entry system.
This unique Show Truck was custom fabricated using the finest materials and performance components available. This particular 1956 Ford F-100 and custom show display was designed and fabricated completely in house by Ralph Holguin and his team at RMD Group.
Watch, Enjoy & Share!