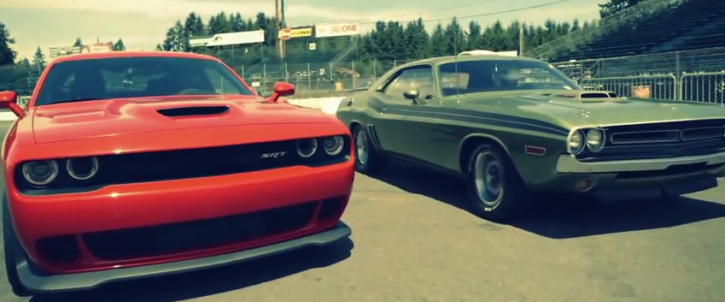 Two mighty Mopar muscle cars battling on the race track – the 2015 SRT Hellcat Dodge Challenger faces the 1971 Dodge Challenger R/T.
With the launch of 2015 model Dodge is racing to the front lines of the horse power wars. Back in the 70's you could walk into a showroom and buy a brand new Challenger with a 425 horse power HEMI 426 engine. Today you could do that too, but the Mopar enthusiasts wanted more, so Dodge increased the number to 470hp and this year the 392 HEMI makes 485hp. The new 2015 Challenger SRT Hellcat comes with a 6.2 liter Supercharged HEMI producing 707hp and is the most powerful muscle car ever. The new Mopar beast is not only about the power, but also the performance.
Check out the video to see which car is better on the track. Watch, Enjoy & Share!