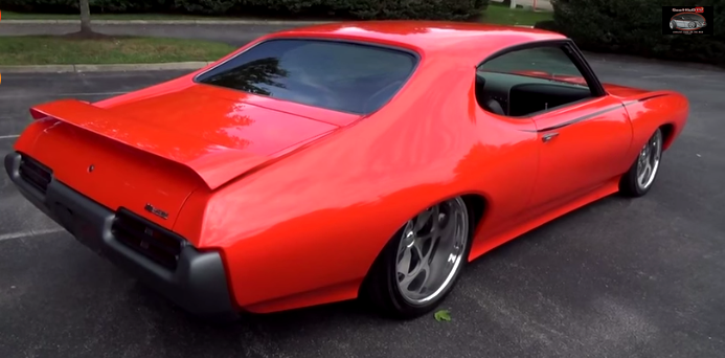 Brutal 1969 Pontiac GTO Judge Tribute.
In this Hot Cars video you will see a phenomenal custom built muscle car by Indy Street Rods & Classics and named JudgeMental. Scottie shot this beautiful ride at the Industrial park in Knoxville and he refers to it as one of its Top 10. This hot rod have a totally mind blowing body with some Ring Brothers details involved, painted in a gorgeous orange, which was a very popular color for this cars back in the day. It's running on a Street Rod Garage chassis and a beautiful 19-inch wheels in the front and 20's in the back.
Wait until you see the interior – absolutely killer work and when they pop the hood…OMG…a very well detailed Fast fuel injected 505 cubic inch motor that shows 665 horse power and 650 pounds of torque on the dyno connected to a T56 Magnum Tremec six-speed transmission. Darren the owner and his brother decided to show their talents and capabilities by building a super clean tribute to the Pontiac Judge and they have done a fantastic job. This is one of the best muscle cars we have seen. Check out the video to hear the whole story behind it.
Watch, Enjoy & Share!