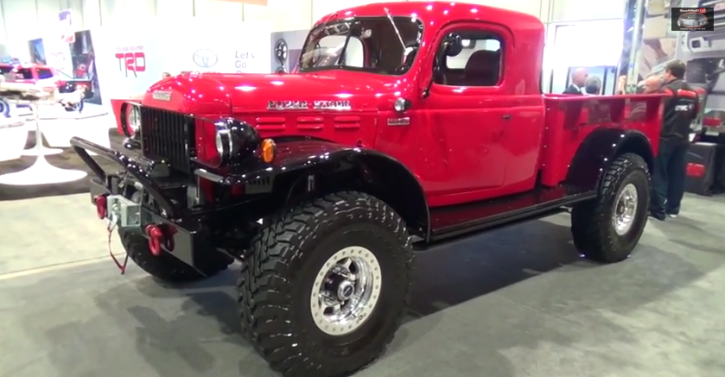 Awesome Dodge Power Wagon at SEMA 2014.
This wicked truck definitely is not something you see on every car show and for sure is one of the coolest vintage vehicles at this event. A company called Legacy Classic Trucks, found 3 years ago by Winslow Bent is behind this tremendous project and they have built 25 of those bad boys already. The prize is slightly higher than the $1600 back in 1947, but you are getting a unique Chrysler product worth between $120,000 and $250,000.
LCT have started the project with a chassis from an original 1947 Dodge, done a frame-off restoration to it and install a high end suspension. The red interior features couple of Captain's chairs, cool dashboard with New Vintage gauges and Carling rocker switches. Quite a few engines are available to choose from with the FI 360 Magnum stroked to 426 cubic inches or the 4.5L Cummins Turbodiesel being the most popular.
Check out Scottie's video from SEMA to see more of this awesome Dodge truck. Watch, Enjoy & Share!
You can find more info on Legacy Classic Trucks on: www.legacypowerwagon.com