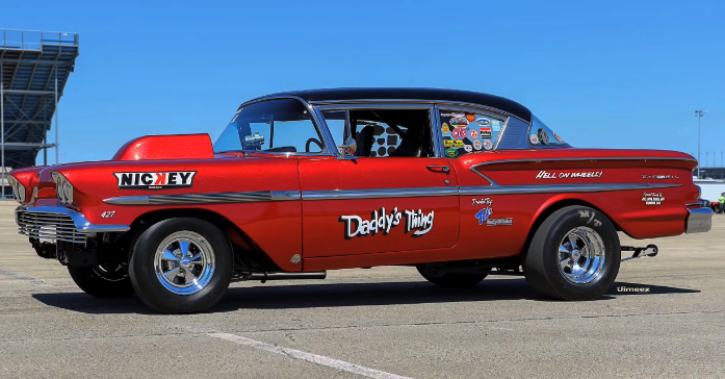 Built and raced by Frank Marshall in the late 60's this 1958 Chevy Bel Air Gasser has a very interesting story and most importantly still makes the crowd go wild with awesome wheelstands. Frank was regular at the Oswego Dragstrip and Great Lakes Dragaway back in the day and sold the "Daddy's Thing" Gasser in the late 70's.
For the next 25 years the 1958 Chevy Bel Air has changed hands several times and her emblematic "Daddy's Thing" name was lost. The Gasser was found by the Beach family in early 2000 and fully restored to be a show car in 2006. Two years later Bob Lehor from the Midwest Gassers has approached the 1958 Chevy owners asking them to bring the Bel Air back to the race track.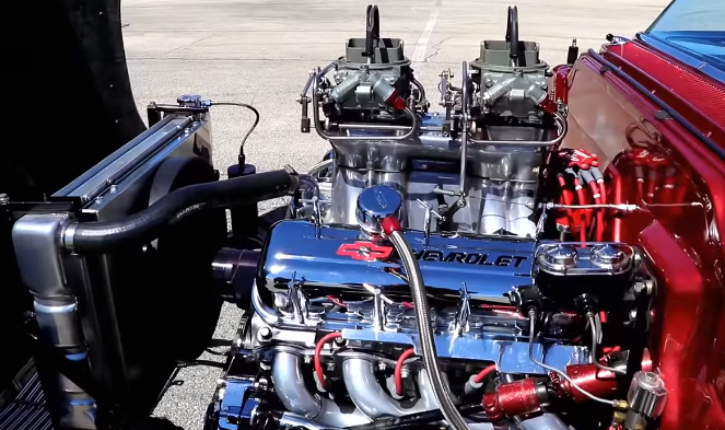 Ted Beach raced the "Daddy's Thing" Gasser until 2010, the car had a little break and then Ted gave it to his sons Brandon and Joe to bring it to the 2013 Meltdown Drags. Powered by a 540 cube Big Block Chevy with Brodix aluminum heads, tunnel ram and dual 750 Holley carburetors the 1958 Bel Air currently competes in both the Midwest Gassers and Nostalgia Gassers Racing Association with its best time being 9.932.
Check out my man James Hrovat (VictoryRedColorado) video to see Daddy's Thing in action!
---
Did You See The Blown 850hp Chevy G10 Boogy Van Yet? 
---