Scott Seese from Hesperia CA is another geargead to admire. Owner of this 1969 Dodge Dart GT since 2009 he has been building and racing the Mopar ever since. Currently the car runs low to mid 12 seconds on 91 pump gas powered by a well massaged 360 Magnum small block V8 motor with 10:1 compression ratio attached to 904 tranny with beefed up internals, reversed manual valve body 3500 Hughes stall converter.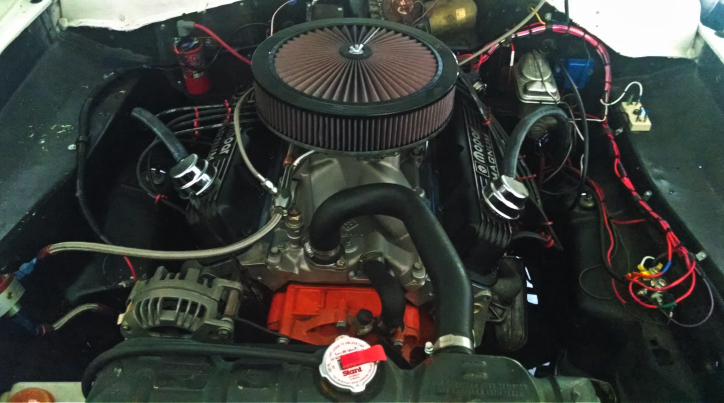 Scott's 1969 Dodge Dart GT sits on Competition Engineering front shocks and Rancho Performance 9000 at the back. The wheels are American Racing Torque Thrust and Chrysler steelies at the rear wrapped in MT drag radials. Brakes are non-power discs and drums from a 1975 Duster. The 1969 Dodge Dart also has nicknames like the "Last Project" of Scott and his Father, "Project Redemption" as Scott and his Mopar are always coming back with vengeance when things go wrong and "Layla" after the Eric Clapton's song.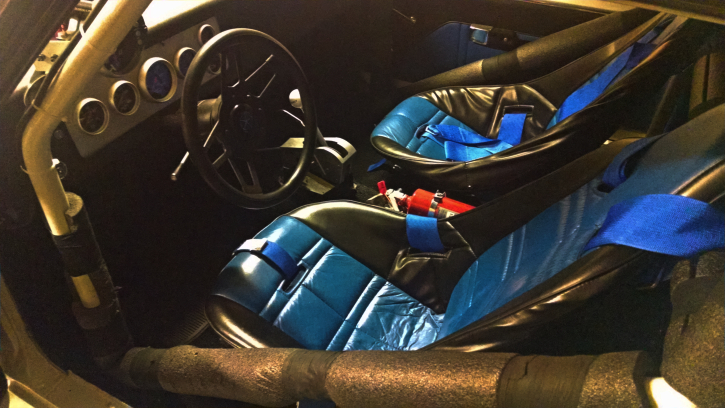 Of course, owning the 1969 Dodge Dart GT for over 10 years Scott has a great story he wanted to share and there is no better way for you to learn about it than through his own words:
Some facts:
Built between my friend Kiall's house and my enclosed storage in the early days. Spent time at Chino Hills Transmissions for bigger builds I worked for them to pay for the work done and learned a lot during the time. Later on manage to build the 1969 Dodge Dart GT in my own garage. Mostly owner built except for interior and transmission. Did the motor, suspension, wiring, rear end, body work and paint. The Red bandana on the tac is my dad's, he wore it during his construction days.
Some History:
The 1969 Dodge Dart GT started life in China Lake California. It was used at the China Lake Naval Air Weapons Division back in the day. I'm the sixth owner, not sure who was the first one, but believe it was either an officer or a private contractor. The original color was an off yellow and I bought the car in primer flat black with an orange roll cage.
The owner before me bought the 1969 Dodge Dart GT to race it, but lost interest when his second child was born. It was around 2008 I decided to go back into drag racing with my mini truck (very first it was a 1985 Ram 50). It was ok, but very slow and I didn't have the resources to do the necessary build to make it a competitive race truck. Then I was racing my Ram 1500 daily driver for a while but like everyone said its my daily. I sold my mini truck in November of 2008 to buy another car/truck that would be a better starting point.
I was watching the 1969 Dodge Dart GT on Craig's list for a while along with a Duster and a Barracuda but the Dart kept me coming back to it. I eventually went to Rialto to check it out with my friend Kiall. It had the 360 with the competition transmission, 8.75 rear and a rollcage, it was enough to get me started. I bought the Dodge Dart GT on New Years' day of 2009 with my friend Eddie. He is a fellow drag racer who came with me to get it and also to examine it. After passing his tests, we loaded it up and took back to Chino were I lived at the time.
Same year Kiall and I managed to take the 1969 Dodge Dart GT to Irwindale Dragway for its "debut" Though it had stock tires no gauges and many other things going against me I wanted to see what it can do. It didn't do terrible but Kiall and I had a blast along with Eddie and the rest of our group. Building the car was very slow as I was living in a apartment and didn't have a place to do the work until I befriend everyone at Chino Hills transmissions.
Later on in 2009 my dad felt really ill, so the 1969 Dodge Dart GT was put on the side for a while. My dad passed away in March of 2011 before the car was drag race ready. He was my crew chief and the master mind on the build. In the summer my friends (racers and video gamers) and my mom got together with me and asked what is it going to take to get the '69 Dart track ready? We were gearing up to make the Mooneyes Xmas show (my dad's favorite) and race in December at Irwindale dragway 1/8 mile.
My 1969 Dodge Dart GT already had wider street tires and there was some safety equipment needed. My friend Eddie and I also decided to paint the car, but it took a while to get it done as we both worked full time. Finishing up the paint in August I managed to take it to another car show called Thunder Fest in Covina with Eddie and the rest of our group. Most fun I ever had since my dad's passing. Then Mooneyes came, my 1969 Dart ran as best as we can get with what we had at the time and my friends, my mom and I we all had a blast.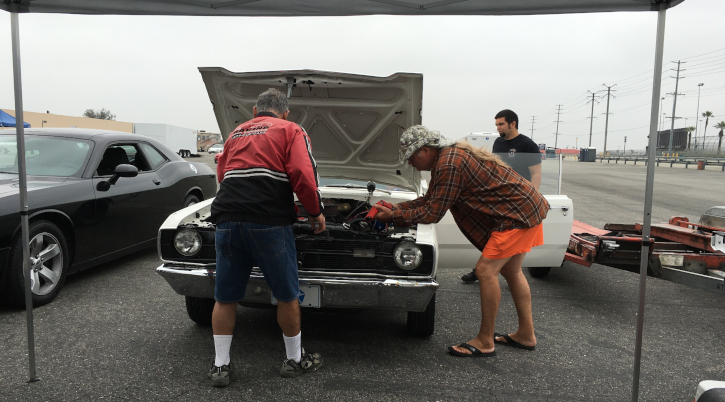 I did another race in 2012 and my Dodge Dart was put down again to redo all the wiring which I did myself as well as the front disc brake conversion. In August of 2015 I took it to Fontana dragway, did about a dozen runs on the 1/4 mile, but had some issues. After fixing them I decided to upgrade the rear end and finally put slicks. Then my mom remarried and my step dad Alex hooked me up with a new tuner, his best friend Mark who got my '69 Dart to run mid/low 12's (left to right my step dad Alex, his best friend Mark and I) Eventually it will be used for competition full time but for now I enjoy it as it is until that day comes.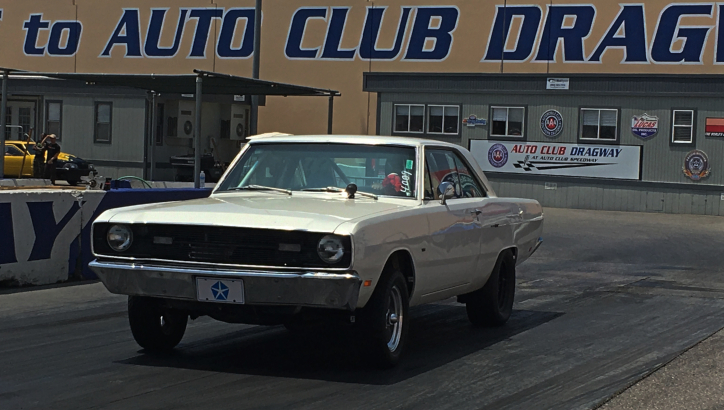 Friends and family that helped me along the way:
Kiall Gage, Fred Durfee, Eddie Martinez and his group, Alan Galvan, Josh Galvan, Chris Khatib, Andy Laurence, Rudy, Jeff Baylyff, Shelby (Brown) Haynes, Bull Sh*t Alley (Kevan Rohrer, Kamron Rohrer, Jim Rohrer, and Mike Saige), Chino Hills Transmissions, Monica Chicas, Micheal Halstead, Mark Powell
Special thanks: My Dad (gone but not forgotten), My Mom, My Step Dad Alex, Mark Miller, My Grandma Connie (gone but not forgotten), My Sister Laura and Brother in-law Martin, my little Brother Mike, Saldana Family.
---
You May Also Like Lisa Caldwell's Wheelstanding 1973 Dodge Dart
---