Lee Houston has always been attracted to the Dodge Dart muscle cars. In fact, his very first car back in the day was a Racing Green '68 GT. Of course, during the years he has owned variety of other vehicles and in 2013 he was an owner of Yellow 1969 Dodge Dart.
A very light Mopar with fiberglass fenders, hood, bumpers and deck lid powered by a 525 horsepower 416 Stroker motor linked to 4-speed Lee's 1969 Dodge Dart was a wheelstanding street beast, but without a roll cage.
Lee let a friend of his drive the Dart, while he was riding on the passenger seat and shortly after that the hospital calls his family saying Lee is not going to make it. Both Lee and his buddy survived and learned a tough lesson. That's why we share this part of the story with you.

---

---
After he recovered from the accident Lee needed another car, so he purchased this GG1 Racing Green 1968 Dodge Dart GT from Long Island (same year and color as his first ride). First thing he did is to put a 340 in it with 3.91 rear end but kept the 727 Automatic.
At first Lee though he would remove the trim and paint it in a high impact color, but then he decided to leave the 1968 Dodge Dart the way it is (kind of a sleeper). He restored the original V8 car to its factory GT specs, but then started playing around.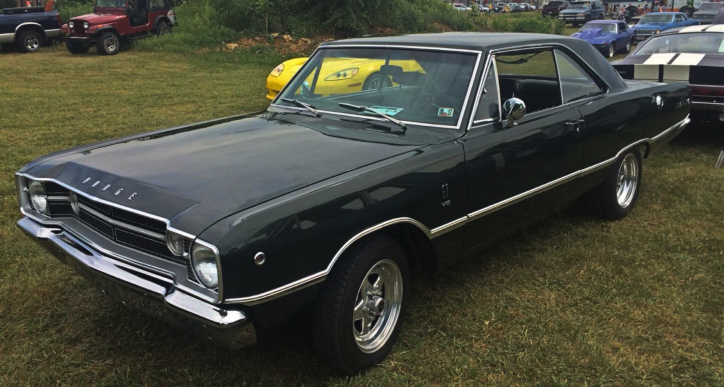 Lee changed the Hubcaps to a ProStar wheels to highlight the trim, put a flip-top fuel cap and started to think about new motor as he was experiencing some issues with the carbs. The next powerplant to go in the 1968 Dodge Dart GT is a 408 Stroker motor estimated at around 500hp.
It has Edelbrock Performer RPM Aluminum heads, Mopar M1 single plane high-rise intake, 850 Demon carb, everything in the valve train (push rods, dual valve springs, etc) are Comp. Harland Sharp Roller Rockers 1.5 ratio, Comp solid lifters, camshaft is the Comp Xtreme Energy solid flat tappet, Chrysler heavy duty i-beam rods, 10.5-1 Keith Black pistons and Sniper EFI system.
---
You May Also Like Scott Seese's 1969 Dodge Dart GT 360
---