Sergeant Scott Graham contacted us a while ago to share with us the story of his 1967 Plymouth Barracuda race car and the LASD Motorsports program. It took a while until we get all the info, videos and pictures needed, but I was trully impressed by the great initiative of SGT Graham and the other Deputies from the Los Angeles County Sheriff's Department and time was not an issue. I hope all of you will get inspired by their message and share this story so more young people can see it.
Check out the 1967 Plymouth Barracuda video and read more below!

Sergeant Scott Graham and his 1967 Plymouth Barracuda race car are part of LASD Motorsports, a program that was organized by Deputy Sheriffs who are passionate about fast vehicles and being involved within their communities. As deputies, their goal is to be role models to all they come in contact with while giving messages concerning the dangers of abusing drugs, alcohol, gangs, and illegal street racing. The team has made thousands of appearances at schools, community events, and several racetracks throughout the United States and Western Canada.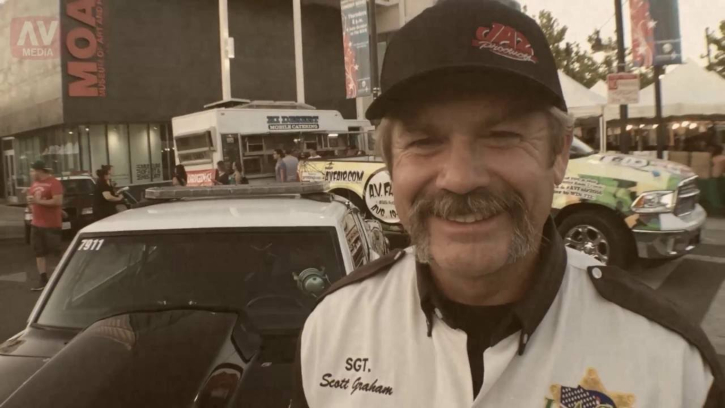 Sergeant Graham of LASD Motorsports speaks about the positive opportunities that are available to all students if they obtain a good education and make good choices. The 1967 Plymouth Barracuda is a great tool used to get the attention of the youth. The race car is not the only thing used to teach the youth to make good decisions. Sergeant Graham also tries to demonstrate that hard work and never giving up on something you want to do, or want to be, pays off. Another important thing to mention is that the 1967 Plymouth Barracuda and the rest of the race cars are completely funded by the Deputies and their sponsors. No tax dollars are used to fund the program.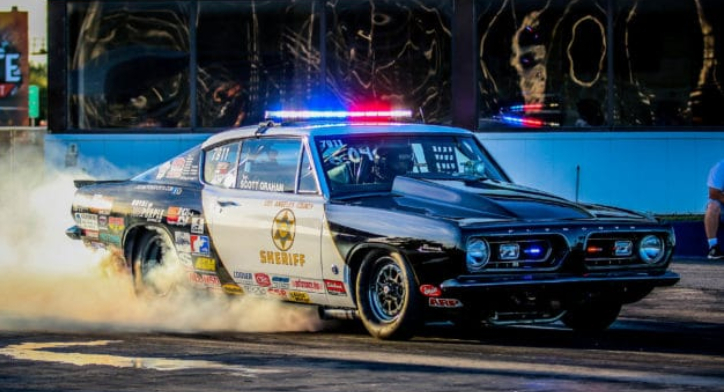 Now let's talk about that awesome Mopar. The 1967 Plymouth Barracuda is built by B.J. Kucharski of BJ's Race Cars and sports a 440 cubic inch Mopar V8 engine capable of 750 horsepower. The motor is dressed with Holley Carb 1050 CFM, Edelbrock Victor Heads, Edelbrock Nitrous System, Scat steel Rods with ARP bolts and Scat forged Steel Crank. The power is controlled by Pro-Trans 727 transmission and Currie built Ford 9 inch Rear End with 3.70 gears and 35 Spline Currie Axles.
The LASD Motorsports' 1967 Plymouth Barracuda race car weighs 3110 LBS with Lightbar, its shift point is 7600 RPM, Launch RPM is 4800 and best ET so far is 8.42 seconds @ 163.8mph.
Did You See the Video We Did on Geoff's 1970 Plymouth GTX 440-6?