Here we have several 1/4 mile races between a SRT8 Track Pack Dodge Challenger and a 1970 Challenger T/A with both Mopars being Yellow, pretty cool right? Actually both muscle cars belong to the same guy out of Stuart, Florida who took his girlfriend on a romantic race track date. So please don't consider it a full out competition.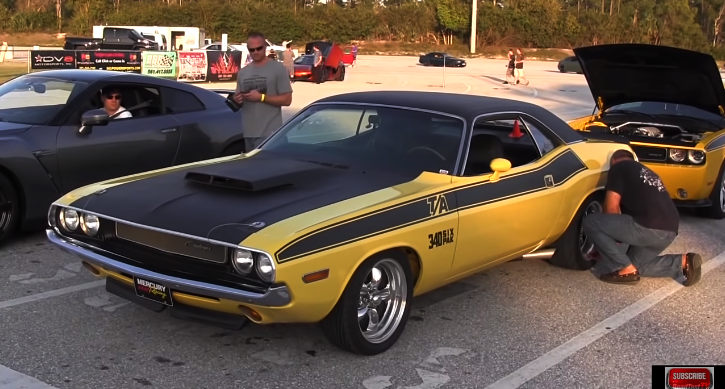 The SRT8 Dodge Challenger is a stock Track Pack car with cold air intake and worn out original rubber. The 1970 Challenger T/A is on factory suspension and drag radial tires. It sports its numbers matching 340 dressed with W2 heads and roller cam and paired with the factory transmission.
During the first 4 races the modern Mopar is driven by the 55-year old lady, who has never raced a stick shift car before, so please take it easy in the comments. Now, check out the old vs new Dodge Challenger drag racing video and tell me what do you think about that 340 Six Pack.
---
Did You See Lisa Caldwell's Wheelstanding 1973 Dodge Dart Video Yet?
---
---

---