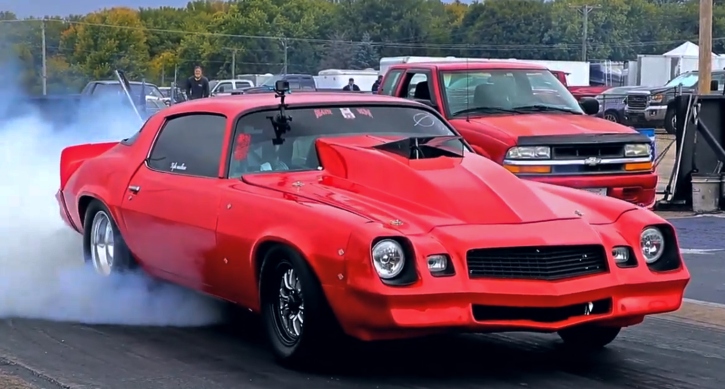 Kyle Needham from Genoa, Illinois is one of those young drag racers who like to push it to the limit and entertain the fans. He has purchased this 1979 Chevy Camaro about 8 years ago and transformed it into a show stopping beast that launches with violent wheelstands and runs single digit 1/4 mile.
Powered by a well dressed 383 cubic inch small block Chevy V8 engine equipped with 400 shot Nitrous system and paired with built TH400 transmission, Kyle Needham's 1979 Camaro a.k.a. "Cranked" currently runs mid 9 seconds and he is aiming for high 8's after the upcoming upgrades.
Play my man James Hrovat's video to see the Cranked 1979 Camaro flying down the strip.
---
Did You See Kyle Knackmuhs's 632 Big Block Chevy Camaro?
---