Private number plates used to be very rare and often reserved for a selected few individuals. Today, this is no longer the case. Everybody that is willing to spend an extra bit of money for a private number plate can now get one – which is why the market for private number plates has been growing each and every year.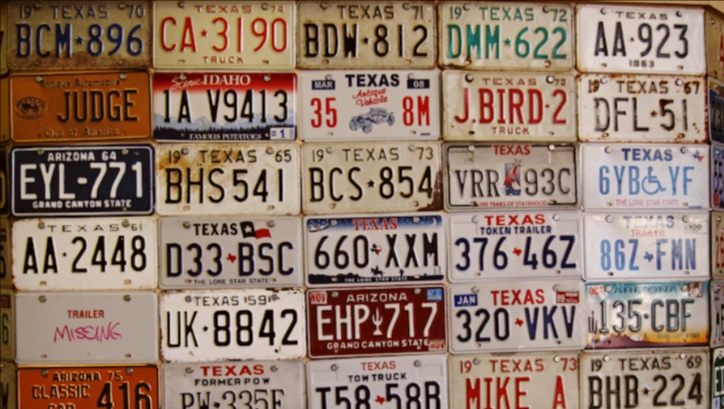 It's not just average people that go for private number plates though. There are many celebrities all over the UK that have private plates on one or even all of their cars.
But who are those celebrities and what are their personalised number plates?
Denise Van Outen
Denise van Outen is an incredibly successful singer and actress. She has made quite the name for herself in recent years, starring in West End shows like Chicago and presenting the Big Box Breakfast TV show.
But did you know that she has a private number plate on her brand new Range Rover? At the time of writing this article, the number plate on one of her cars (the Range Rover) is OUT 3N. And though she hasn't publicly said what that number plate means – it sure does look and sound very unique.
Jeremy Lynch
Jeremy Lynch is one of the most popular YouTube content creators in the football industry. He made a name for himself many years ago showcasing his talent without having to play for a top Premier League team.
On top of that, he has other business ventures that have turned him into a very successful businessman with a very decent net worth. And one of the ways Jeremy Lynch has celebrated his success is by getting a personalised number plate on his Lamborghini Aventador. The number plate that Lynch has gone for is JEZ 444.
Amir Khan
If you follow the world of boxing, you will have heard of Amir Khan. After all, he is one of the most prolific, skilled, and controversial boxers out there. But love him or hate him, you have to appreciate his drive and struggle. Over the years, he has steadily grown his name as a professional boxer, which has brought a lot of success into his life.
Amir Khan is known for his strong personality. You can see that the second he steps into the ring, his style and the way he talks. So, it should be no surprise that he is one of the many celebrities in the UK that bought a personalised license plate for his car.
At the moment, Khan owned a brand new BMW with a number plate BOX IIIG, which was later transferred to his Range Rover.
Andros Townsend
Andros Townsend has had quite a football career. Unlike Jeremy Lynch, Townsend is your traditional professional footballer playing for clubs like Spurs, Crystal Palace, and his current team, Everton. While he has jumped from team to team in the past couple of years, he has been known in the community for his taste off the football pitch.
Townsend currently owns a Porsche with a number plate AND 20S, which really makes him stand out and it's fair to say that going unspotted around town is pretty hard for him.
Theo Paphitis
Theo Paphitis is a British entrepreneur, television personality and philanthropist. He is best known for his appearances on the BBC's Dragons' Den and The Apprentice UK.
Paphitis was born in Cyprus but moved to the United Kingdom with his family at a young age. He left school at 16 without any qualifications and started working in a series of jobs including running his own businesses.
In 2000, Paphitis appeared as a "dragon" on the BBC Two business show Dragons' Den. He has since invested in over 30 businesses on the show, which have made him a lot of money that he is now spending lavishly. One of his lavish purchases is a private number plate – RYM 4N, which can be seen on his luxury Maybach.
Duncan Bannatyne
Duncan Bannatyne was born on February 2, 1949 in Clydebank, Scotland. After a difficult upbringing, he left school at age 16 and joined the Royal Navy. He served for nine years before being honorably discharged.
Bannatyne then started his own business, a nursing home company, which eventually grew into a multi-million pound empire. He has since become a well-known philanthropist, donating millions of pounds to various charities.
Bannatyne is also a regular panellist on the BBC business show Dragons' Den, where he has earned the nickname "Mr. Nasty" for his scathing criticism of poor business proposals.
And one of the ways Duncan has decided to spend a small chunk of his wealth is on very unique personalized plates – such as the one on his Mercedes, which is 23 D.