A  Five Year Build 1966 Ford Mustang Pro Street.
In This Hot Cars video is featured a super mean classic that defines the high performance muscle car, filmed at the 50 years Mustang celebration in Vegas earlier this year. Responsible for this pro mod pony car are the "Rolling Art Motor Sports". These boys have squeezed over 1200 horse power out of this super blown 66′ Stang powered by a 351 stroked to 418 cubic inch small block Windsor engine polished to perfection…and that is with out the Nitrous. Add the additional 275 and you get a 1483hp…what a beast.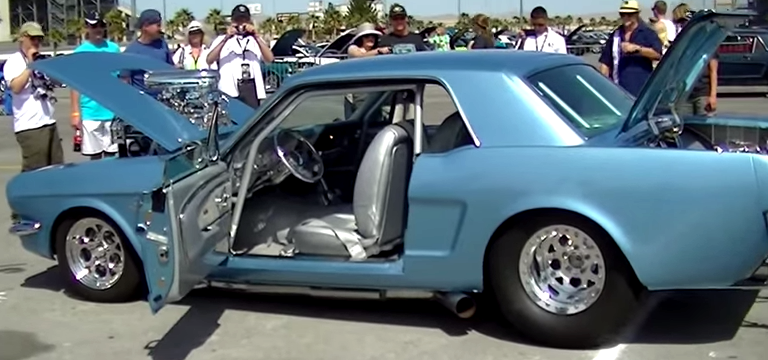 The interior looks very impressive as well. Full roll cage, ultra leather all over, awesome custom steering wheel, super stereo etc. And chrome, chrome, chrome everywhere…the chassis, even the wheelie bars…this Pro street is totally insane. Five years, great knowledge and a lot of passion have been invested in this hot rod, but it rocks…and the sound…OMG. You gotta check it out. Special Thanks to Mustang Connection for the great video.
Watch, Enjoy & Share!