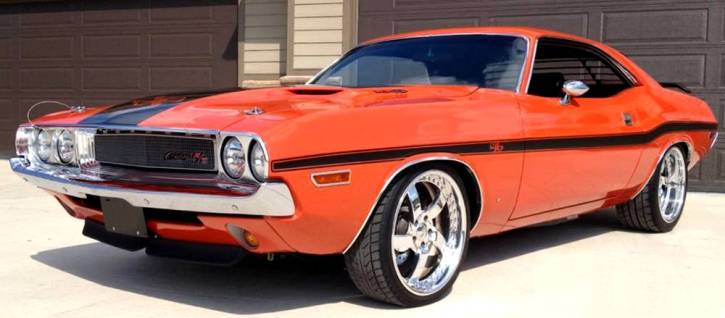 Pro Touring 1970 Challenger.
Here is a killer muscle car, which was auctioned at Barrett Jackson earlier this year. Most of you may have seen this incredible Dodge Challenger on TV shows or car magazines. Completely restored and re-engineered by "Bair Customs" this vehicle is the definition of a Pro Touring Mopar.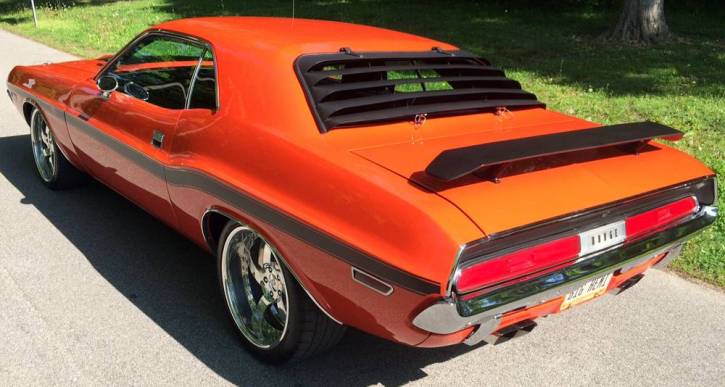 The gorgeous E-body is painted in glossy Hemi Orange with flat black RT stripes on the side of the car, rides on Reilly Motorsports suspension and is set on awesome 19-inch Boze rims fitted with Mickey Thompson tires.
Inside you will find a factory looking interior with a bit of modern touch. Although the bucket seats look like stock they are actually custom made, some carbon fiber have been used with out going crazy with it and the gauges have been touched as well.
The guys from "Muscle Motors" have stroked a 3rd generation HEMI engine to a 426 cubic inches, which generates almost 600 horses and is controlled by a Tremec five-speed manual trans.
Check out the video for all details on the fabulous "Big HEMI" 1970 Challenger.
Watch, Enjoy & Share!