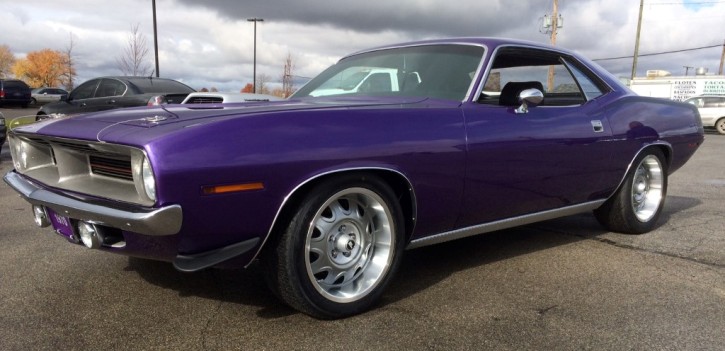 Cool Plum Crazy Custom 1970 Plymouth Cuda.
This beautiful Pro touring muscle car called "BarryCuda" is a project of Pam and Bill Fix and a tribute to Barry Bergquist, Pam's brother who passed away 30 years ago. Responsible for the built of this remarkable classic Mopar are "Bair Customs" and the "Big Hemi Garage" and I dare to say they have totally nailed it.

From the slick Plum Crazy Purple Metallic paint, super sharp body, awesome 17-inch Rally wheels, beautifully done vintage looking interior, custom exhaust system and of course last but not least the extremely well detailed 426 cubic inch HEMI V8 pushing 600 horse power on pump gas built by the "Muscle Motors", this 1970 Plymouth Cuda is one of the best custom muscle cars we've seen these days.
Check out the video from the Sherwin Williams booth at SEMA 2014 to learn more about this hot rod.
Watch, Enjoy & Share!
For the full story and more pictures from the built of the "BarryCuda" click here