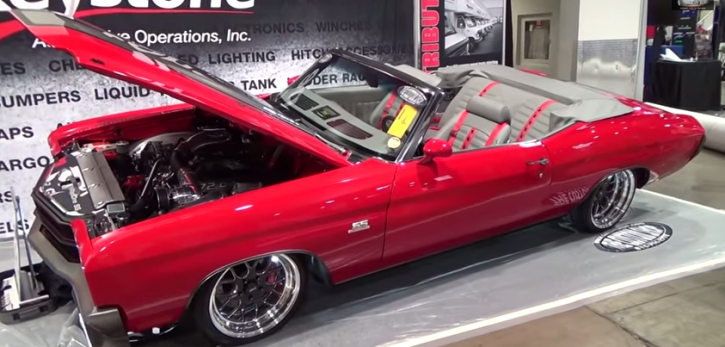 Pro Touring 1970 Chevelle SS  by The Custom Shop.
This extremely cool muscle car called "Red One SS" is the latest project of "The Custom Shop", which John Wargo brought to SEMA 2014, and I am telling you it is way over the top hot rod. The paint job is super slick, the body is laser straight, the stance is awesome, the rims are smoking hot, the interior totally rocks and features some crazy digital gauges…everything about this Chevy is just off the hook. Certainly one of the sickest custom muscle cars I've come across lately. Of course things in the engine bay looks pretty good as well. The Supercharged 572 cubic inch Big Block V8 motor pushes over 1000 horse power.
Check out the video filmed by Scottie at the car show to hear all about this spectacular Chevrolet Chevelle from John Wargo. Watch, Enjoy & Share!