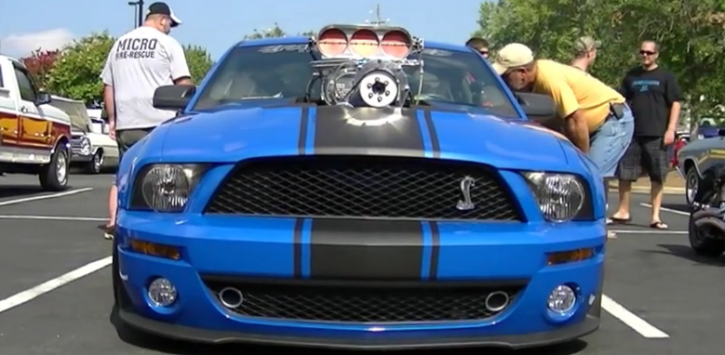 Evil Ford Mustang GT500 by Fastlane Motorsports.
This killer custom Mustang GT500 a.k.a "Project Nightmare" debuted back in 2010, but I dare to say it is still one of baddest modern Mustangs and definitely turns heads on any street. The owner of this 2007 Ford Mustang is Melvin Skinner who shares how he grew up with the Ed Big Daddy' Roth creations and what you are looking at is a real modern version of it, which he can drive wherever he likes to.

Lowered to the ground, painted in beautiful Grabber Blue, spinning Carroll Shelby wheels in the front and massive Budnik custom rims wrapped in Mickey Thompson tires at the rear, this outrageous Fastlane Motorsports custom built Mustang GT500 can't go with any engine. Melvin stuck under the hood of his mean pony a built 5.4 V8 dressed with Terminator top-end and old school 6-71 blower, which sounds awesome.
Check out the video to see one of the meanest GT500 Mustangs ever built. Watch, Enjoy & Share!