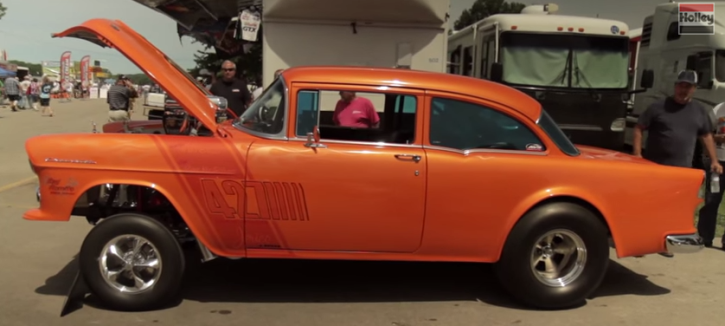 Dave Ver Schave's 1955 Chevy "Orange Krate".
Dave and his son spent about 5 years putting this Chevrolet Gasser together and they are getting a lot of attention at both the car shows and the strip. The name and the theme of this wicked classic car comes from the Schwinn Orange Krate bicycle, which Dave's parents couldn't afford to get him, so he built one him self and actually street drives it quite often. From the cool body and stunning interior to the 496 cubic inch engine everything about this Chevy is just awesome. Check out the video from 2014 Holley NHRA Hot Rod Reunion to hear more about it.
Watch, Enjoy & Share!
1955 Chevy "Orange Krate" Earns Respect at RT66