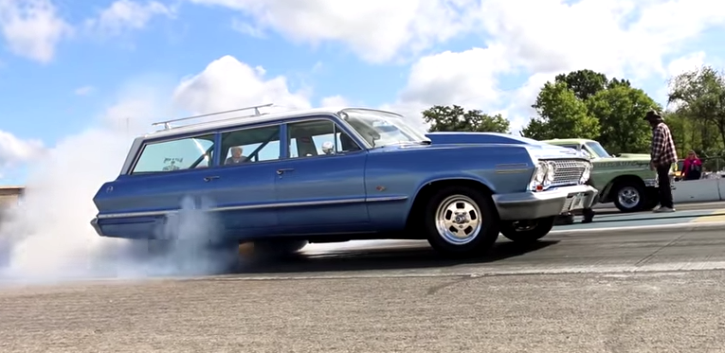 1963 Impala "FastWagon" at Byron Dragway.
This week we have been featuring some heavily modified fire breathing rides demonstrating some American muscle at various locations in the United States and after showing you a 4000hp Twin Turbo Camaro or a 250 mph Street Legal beast it's time for something quite different, but still very cool.
How about a 4000lb all steel (except for the bumpers) 1963 Chevy Impala station wagon powered by a blown 406 cubic inch engine running on E85 constantly staying in the 10 seconds neighborhood with the wheels up at the Inaugural Hunnert Heads Up Event at Byron Dragway? Sounds pretty cool right?
Check out James Hrovat's video to see this street legal blown 1963 Impala "FastWgn" Watch, Enjoy & Share!
More on Hot Cars: Smokin' Hot Chevy Impala Custom at 2015 Good Guys Nationals