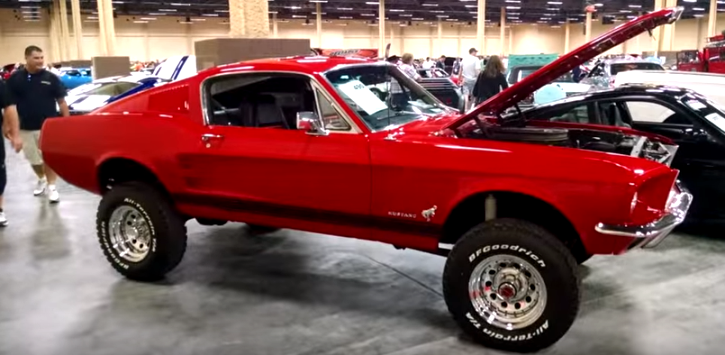 Cool 1967 Mustang 4WD at Barrett Jackson.
The idea for this uncommon Ford Mustang project belongs to few guys working together at a restoration shop back in 1980 and actually about 12 of this 4WD Mustangs were built. Now one knows how many of this 4×4 1967 Fastbacks are still alive today, but this particular pony have been one of the builder's daily driver for many years and it is in great health today recently sold for $25,000 at Barrett Jackson in Vegas.

Started life as a very basic 1967 Fastback with minimum options this Mustang is now set on a 4WD Bronco chassis, has a nice Mach 1 leather interior and still sports the original 289 V8 engine mounted to a 4-speed gear box. Check out the video brought to you by Mustang Connection to learn more.
Watch, Enjoy & Share!
1967 Mustang Fastback 289 in Red