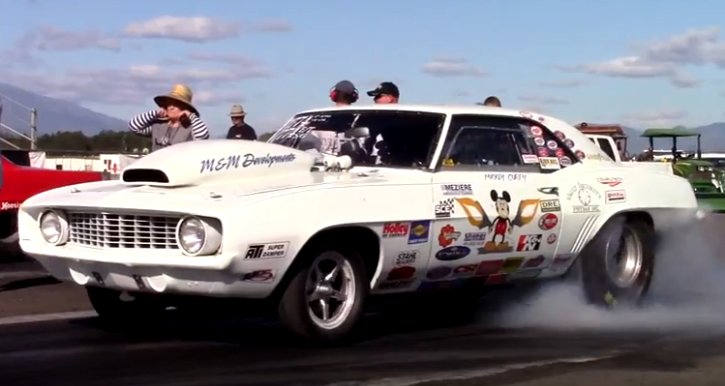 After many years of drag racing Mickey Curry has retired and now he is trying to find a new home for his 1969 Chevy Camaro. Here is the story the way he shared it for Hot Cars:
The 1969 Camaro started off as a daily driver with my son. When we purchased it, it had a blown engine and transmission. It started off with a 350 CI engine linked to a Turbo 350 Transmission, a Tunnel Ram and two 465 Holleys. That lasted until my son decided to join the Army in 1989. After basic training we went to Sears Point Raceway for the first pass down the strip. Of course with the tunnel ram an two fours removed we scored 12:50 in full 1969 Camaro trim.

I took possession of the Camaro in late 1989 and joined a race Association called Super X in 1990, 12:50 heads up, by this time we all need a throttle stop. From there I went to Super Modified 11: 90 heads up. After couple of years I had removed enough equipment I could run 10:90, Super Street with no problems at 124 mph. Super Street lasted several years and in 2012 I won 1st place in the Annual Association. In 2013 I was runner up in NHRA Division 7 at Infineon Race Way Sonoma CA. The 434(6) C.I. evolved with a 10:50 dominator and later 1100 CFM Holley and Profiller 13.5 heads. 2016 was my first year in Super Gas running 9:90 with a starting line launch of 5000 RPM and a shift RPM of 6400, crossing to finished line at 7100 RPM
Mickey's 1969 Camaro drag car sits on a stock chassis with QA1 double adjustable shocks and spins Weld racing wheels wrapped in Goodyear slicks. It has fiber glass front end, doors and deck lid and is powered by 436 cubic inch SBC engine.
Watch the short video below to see the 1969 Camaro in action.
For all details on the car email Mickey Curry at: candystoreman2006@yahoo.com or give him a call: 707-495-6079