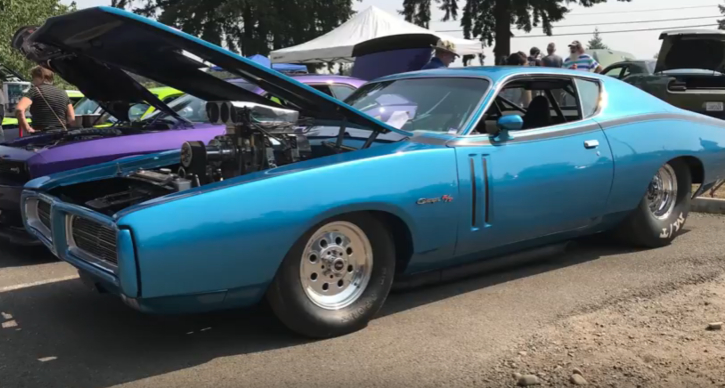 When you look at this super clean 1971 Dodge Charger R/T sitting at a car show you would think it doesn't see too much action, but apparently this immaculate pro street Mopar hits the drag strip quite often.
When you take a closer look and notice the well polished Weld Racing wheels are wrapped in fat Mickey Thompson's at the back plus there is a wheelie bar as well you start getting it, this 1971 Dodge Charger R/T is built to move fast.
It has a stripped racing style interior with roll cage and the motor is a real beast too. Sporting a 400 cubic inch V8 with aluminum Indy heads and 10-71 Blower this Pro Street Dodge Charger puts 1000 horsepower to the ground and runs the 1/4 mile in 9 seconds.
Check out the walk around video of this 1971 Dodge Charger and Mark Lambert's awesome 1970 Cuda 440 restomod below!