Danny Nicolosi's 1969 Chevy El Camino SS was one of the first rides featured on our YouTube Channel. As well as one of my favorites muscle pick up trucks I had a chance to write about. Check out the video I put together and read the story below.
As seen in the video when Danny received this 1969 Chevy El Camino SS as a gift from a member of his family 22 years ago the pick up wasn't as attractive. Used as a daily driver hauling groceries, hardware store runs and even towing a boat on a regular basis like most El Caminos' back in the day, but Danny really loved it as it was a muscle car and a pick up truck at the same time.
Danny didn't wait too long to start working on its new toy. In fact him and couple of friends rebuilt the motor and got the 1969 Chevy El Camino ready for paint right away. However, the story continues years later in 2012 when Danny and his buddies decided to play with the motor again. When they pulled it out, the fenders came off, then the front end and this is how the frame off restoration of Danny's truck started.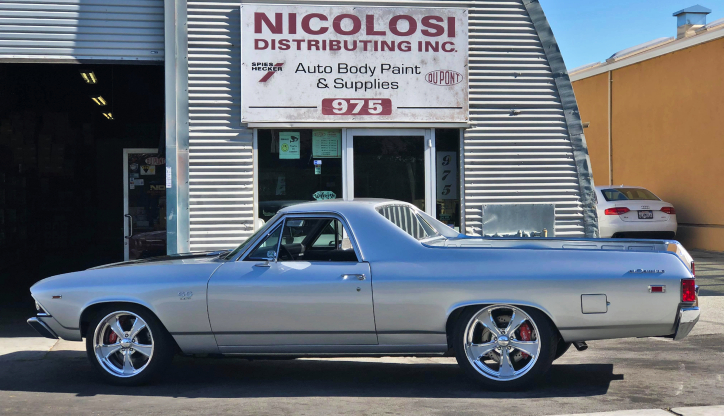 He wanted to build a nice street rod rather than a racer, so he got a rotisserie, stripped the 1969 Chevy El Camino down to bare metal and did almost everything in his warehouse with the help of his buddy John, who inspired the project with his vision and skills. As men with families and day jobs they had to work after hours and it took them 6 years to complete the restoration.
Danny's 1969 Chevy El Camino SS became the restomod you see today in September of 2018 and it hit the Goodguys' showroom floor in Pleasanton, California in November where it won an award. Danny shared pictures of most of the parts used for the restoration which we included in the video and here is the list of the specs as he sent it: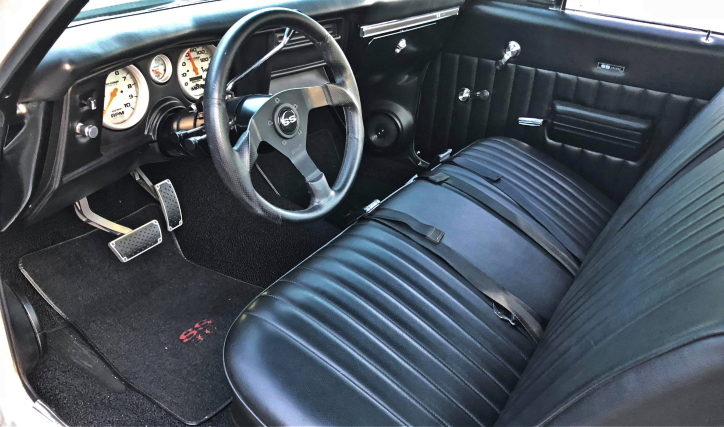 Spies Hecker Paint inside out, Hotchkis suspension, Willwood rotors, brakes, American Autwire harness, Intro wheels 19″ in front and 20″ in rear, classic dash with Auto Meter gauges, Electronic E stop E-brake, custom Lemon headers, custom fit exhaust with Flowmaster mufflers, Quickfuel carb.
Fuel lines ran through frame, stainless steel brake lines, Ron Davis radiator, Hydratch brake braking unit, BAER master cylinder, March Performance pulley kit, 509 cube DART Block with 4.500″, Scat 4340 4″ stroke. Trick Flow oval port aluminum heads, Turbo 400 transmission, Comp cam hydraulic roller camshaft, lifters, rockers, Dual plane intake for hood clearance.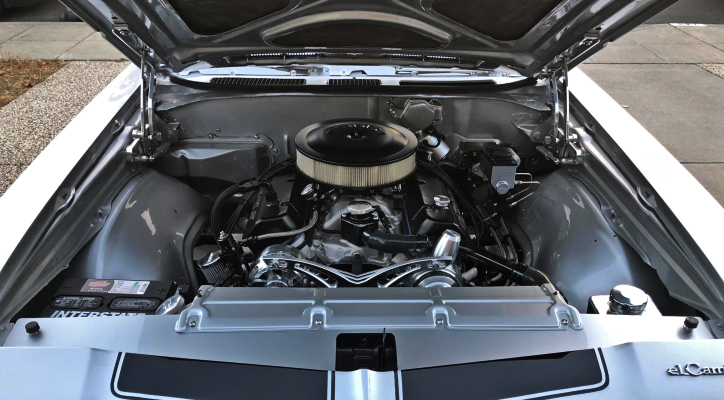 Cam duration at .050 intake 235 degrees. exhaust 249 degrees. Stall converter: Continental 10″ 2800-3000 stall. Inland Empire driveshaft, Tanks Inc tank, all new interior with original bench seat, IDIDIT tilt steering column. CLAYTON Machine pedals.
Body & Paint by Julio Galvez. John Franceschi built the motor and the entire project with my help and my friend Eric McGhee. Last but not least special thanks to Original Parts Group (OPGI) for being such a great parts source.
Don't Miss on Hot Cars: Story of Blu McBride's 1970 Chevy Chevelle