Rick McElheran's 427 FE powered 1967 Ford Mustang Coupe impress with both super clean appearance and great performance for a street car. Check out the video we put together for his rowdy Stallion and read more details below.
Rick and Elizabeth are a Ford family currently owners of 3 awesome Mustangs, but today we are going to tell you the story of this rowdy 427 FE powered 1967 Mustang Coupe. It all started in 2014, when a friend of Rick who is a passionate 427 FE guy came across the car on FE network classified. Rick took a long trip flying from Calgary to Toronto and then to Newark, NJ. Then he drove to Harrisburg, PA to see and test drive the Mustang. Rick loved the car, made a deal and returned home to arrange the logistics.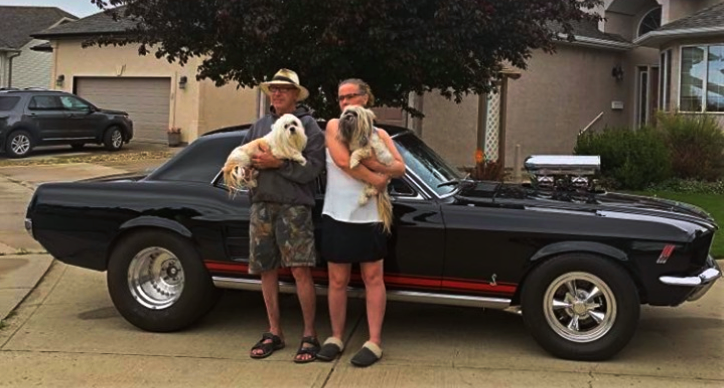 The 1967 Ford Mustang Coupe was assembled in San Jose, CA and started life as a GT 390 S-code. Out of the 4,403 Mustangs produced with 390 engine paired with auto transmissions, only 30 came in Raven Black with Black decor bucket seat interior. 19 were equipped with AC, 8 of them had AM radio and 3 of these had 14-inch White sidewall tires. You are looking at the only 1967 Ford Mustang produced with all the options above, which came with manual drum brakes.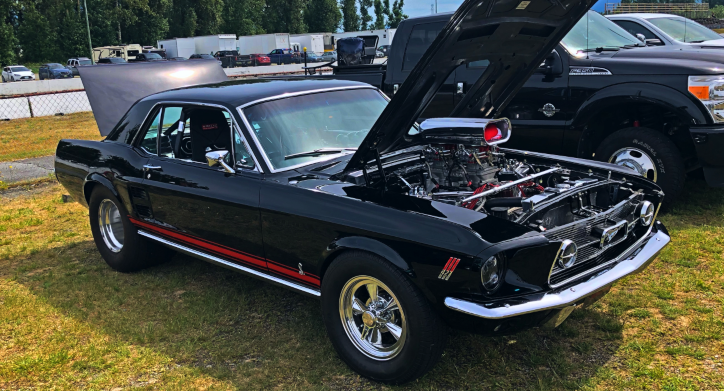 Currently Rick's 1967 Ford Mustang is a NHRA certified street car riding on 4-link suspension and powered by Blair Patrick built Robert Pond aluminum block 490 CID V8. The engine is equipped with Blue Thunder heads, T&D rockers, J-Brown adapter/351C Weiand tunnel ram intake, pair of quick fuel 950 carburetors, Milodon oil pan and Meziere water pump. The engine kicks in 861 horsepower sent through Jerico 4-speed racing transmission with V-gate shifter and narrow 9-inch rear end from Strange Engineering with 4.86 gears.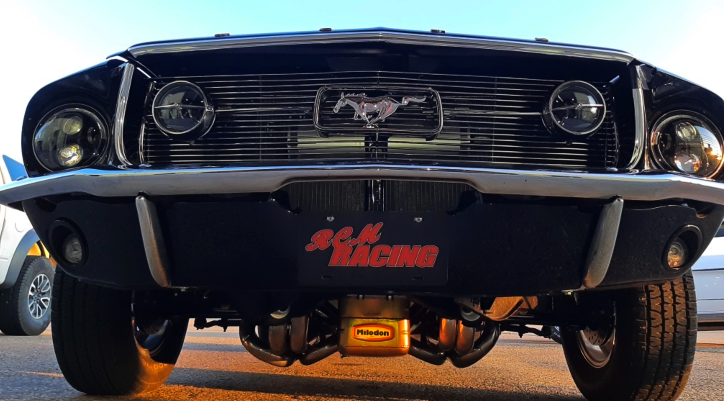 Rick is a regular at the Rimbey race track at Alberta with his best 1/8 mile ET being 6.07 seconds at 112 mph. He is thankful to Blair Patrick for building the 427 FE engine for his 1967 Ford Mustang, crew chief Jason Edmonton, Bill Douglas for doing the machining and Glen Rhodes for the polishing job.
You May Also Like Jason's 1967 Ford Mustang Build Story