Rick and Sharma are a Mopar family, they have quite a few cool cars and we will definitely be featuring more of them in near future. But for now, check out the video we put together for their awesome 1971 Dodge Dart Swinger "Olive" and read the full story below.
In small town America they will pull you over for a taillight out, give you a verbal warning and send you on your way with not one word mentioned about your open headers. The 1971 Dodge Dart Swinger was a roller when Rick Hardee of Oklahoma brought her home around eight years ago.
He dropped a 318 engine and 727 transmission combo in her, and she remained a fun daily driver for the next few years. Due to a divorce Olive would find herself a new owner for a few years until she found her way back home in 2017.
Rick and his new wife Sharma would find themselves helping a friend prepare for Drag Week 2017 by repairing and painting Dale Gebhart's Gremlin that had been hit and damaged on the previous year Drag Week event.
With only a few weeks until the event would kick off, they had their work cut out for them to get it completed in time. Rick shared that each day Dale would try to convince him to get a car ready and go on Drag Week with the Gebhart Family.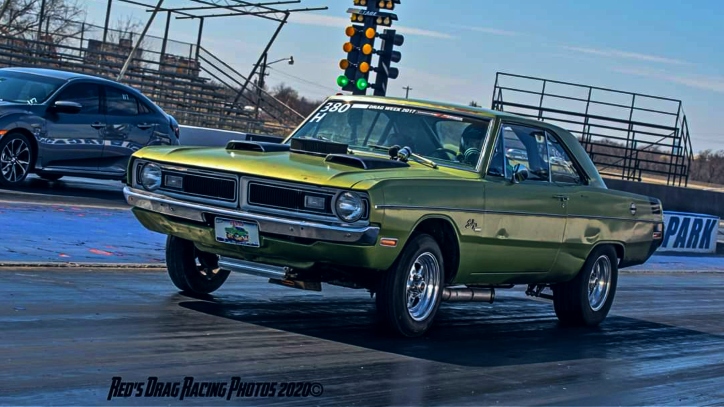 With five days left and the Gremlin still not in paint, they took on the challenge. The 1971 Dodge Dart Swinger would become a street legal naturally aspirated 10-second race car in five days and the Gremlin would also be in paint.
Olive's heart was pulled out and a 400 low deck stroked to 470 would be her transplant. The fender well headers would require some inner fender modifications. A single stage of Nitrous "just in case" was added under a 1050 Holley Dominator carburetor, all sitting on Promax heads.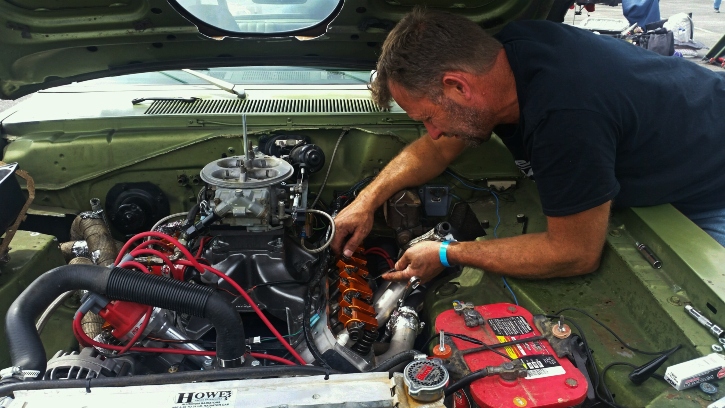 The '71 Dart would stay true to Mopar with a 727 trans but would upgrade to a reverse manual valve body paired to the 8 ¾ rear hosting a 391 full spool with Mosier Axles. The factory spacing would allow for a set of 255/60/15 ET Streets with no modifications except a set of CalTracs to help her hook at the track.
Olive would keep her full interior with a six-point cage that would be added with seven hours remaining before the truck and trailer would head out for Drag Week 2017. She would keep her all steel body and the battery would remain in the factory place under the hood that Rick would painfully have to cut a hole in to clear the air cleaner.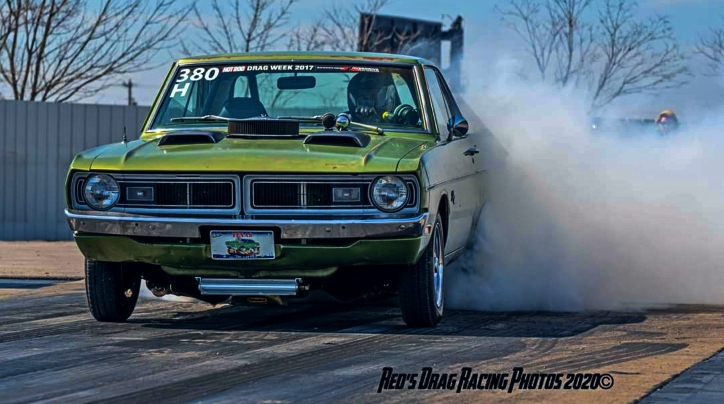 After several sleepless nights they finished the Gremlin. The Dodge Dart would fire for the first time only to back out of the shop and straight into the trailer. Rick still had to complete the wiring for the Nitrous system, Tach and switches. Sharma would pull the trailer to Cordova Illinois down highways and rough rural roads which would eventually lead Rick to put on a helmet for safety as he was tossed around locked inside the moving trailer.
They survived Drag Week after stopping at the first rest stop on their route they heard what sounded like a rod knocking. Thankfully it was only loose flywheel bolts which lead to pulling the transmission on the side of the road.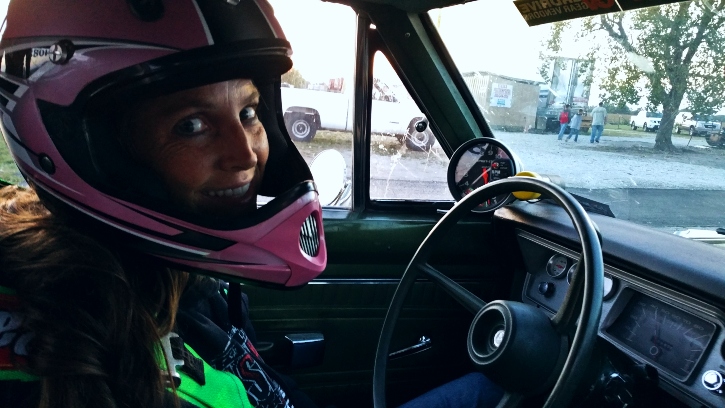 The first night We would work the bugs out during the long sleepless week with the final result being a reliable fun street strip car Rick tells us. Today the 1971 Dart Swinger remains a street legal race car. While Sharma races her at the track, Rick runs her on the streets of Oklahoma doing donuts and burnouts with open headers down main street in small town America. Olive has recently received some new treats and is waiting for the track to open to get new 1/4 mile numbers.
You May Also Like Ben Sambrano's Dodge Dart 408 Stroker Video