If you remember not long ago we featured another one of Rick and Sharma's Mopar muscle cars (video at the bottom of this page) and now is time to tell you the story of the outstanding 1970 Plymouth Cuda 440 6BBL called Fiona. In fact, Fiona is selected for a display vehicle at the 2020 Carlisle Chrysler Nationals. Check out the video I put together for the Sassy Grass Green Cuda and read the full story below.
For me personally, the story of Sharma Hardee and her 1970 Plymouth Cuda is a great inspiration. A story, which proves that passion, dedication and hard work will always pay off. A journey that makes us better and stronger. That's all I have to say, and here is what Sharma wanted to share with you all:
To pick a time my love for cars started would be very difficult. Playing Matchbox cars and Tonka trucks with my little brother more often than playing dolls with my sisters as a young girl. Having an older sister who would do burnouts and cookies in front of my mom's restaurant with me in her 1972 Dodge Charger just to fire our mom up, definitely played a big part in molding me into the die hard car girl I am today.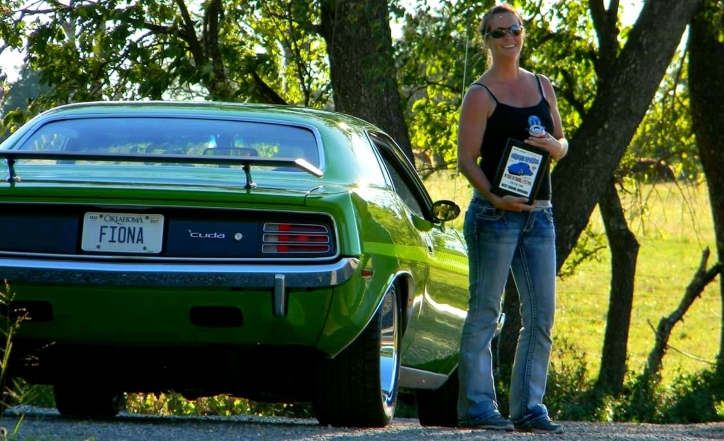 At sixteen years old I bought my first muscle car, a 1970 Nova. It was short lived as the 305 engine did not love NOS as much as I did. Next in line would be my 1971 Chevelle, which would eventually fund my Mopar. At twenty two years old I passed what I soon would learn was a 1970 Plymouth Cuda in the small town of Battle Ground WA, I loved what I saw and had to have one.
I spent the next 2 years searching for the perfect car. In the mid 90's they were not nearly as hard to find as they are today. In the summer of '97 I would find my 1970 Plymouth Cuda. One owner, woman owned California E-body, which sadly lost her original owner who had willed it to her tree hugging nephew in Portland Oregon. He thought the 318 engine was an appalling gas guzzler and felt it should not be out on the highways and he was not going to partake in destroying our environment, lucky for me!
After lifting the trunk mat and carpet and finding absolutely no rust anywhere I found a glove box full of every single receipt of any work she had done. This was it, this was the Cuda I had been searching for with zero rust, one owner, big ugly side body molding, hubcaps with white wall bias tires and not one single screw or hole drilled anywhere with not even a factory sticker missing.
Smiling I handed that young man his $2,200 asking price with no negotiation and she was mine. Once home with the car back in Washington I took a lot of slack for buying one of the most undesirable cars made as a 318/904 combo after a two year search. I didn't care what anyone thought, I was now a proud owner of rust free 1970 Plymouth Cuda that even in the 90's wasn't easy to find.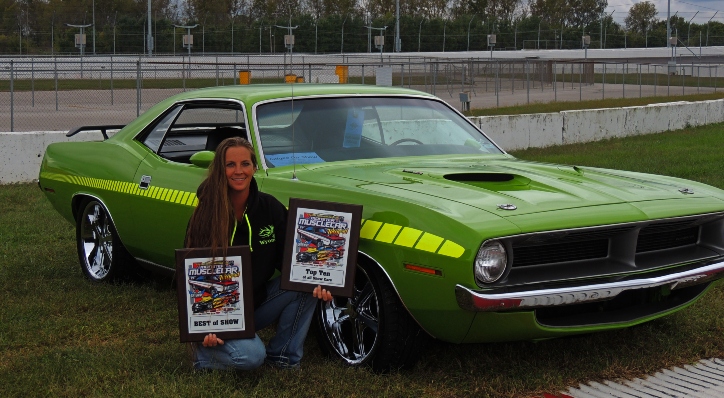 I was so excited but also very pregnant so not much happened in the next year or two with my '70 Cuda. The goal was to finish the build before I turned 30 years old. As we all know life changes everything and my goal soon changed to 40 do to a chain of events. With the Mopar now mostly disassembled and the restoration started it would quickly get stalled by a divorce that would eventually stop the build completely. Choosing food and clothes for my two boys or a car was no choice at all, so with a heavy heart I sold the car to a friend who promised to sell it back as soon as I was back on my feet.
Less than one year later I was so excited to make the stop at his shop with cash in hand to buy my car back. The car still sat in the exact spot in the back corner of the shop where I pushed it off the trailer in tears the year before. He still only had the shell as he had never come to get any parts that were still stored in my barn. I laid the cash on the work bench with what I thought was a generous one thousand dollar thank you added to the amount he bought the car from me for and he stammered and shuddered and eventually said No, he would not sell it back to me as he wanted to build a AAR Clone with it.
Only a few times in my life had I felt my heart sink in my chest, and this was one of them. Many more attempts were made to buy it back over the years. I would find myself standing in the parking lot of Firm Feel Suspension looking at a '73 Cuda or what was left of the shell of a retired race car. Although it was not my car I had come to the realization that I probably was never getting the '70 back. I made the decision standing there to make one last phone call to the guy that had my car. I had made up my mind if he said No this time I was going to buy the shell and I would build that car instead.
I made the call, asked him for a cash price that night and he threw a number of nearly four times what he bought it from me for. I drove the hour long drive straight to his shop and laid the cash on the bench and he handed me my title that was still in my name. After a very long sleepless night the following morning I would back the trailer into the same spot I unloaded the 1970 Cuda seven years before and load my car back up and take her home to where all of the parts including every nut and bolt were still stored and waiting for the restoration . The very next day would be the start of a 4-year build that would have never happened without amazing friends and family.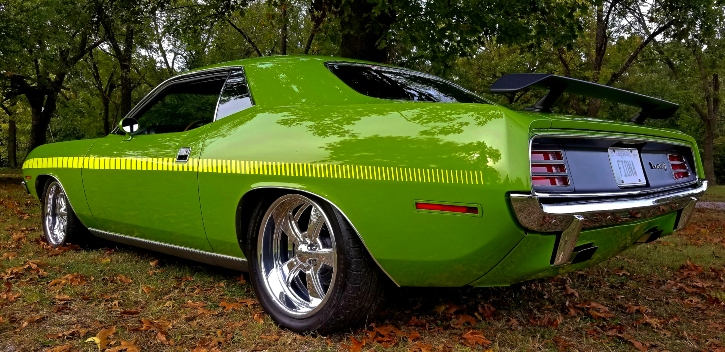 The next 3 years would mostly be consumed with the body and paint; endless hours of wire wheeling, sanding, blocking and eventually wet sanding would pay off in the end. The time had come to choose the color. Standing in the paint store I still had not decided between Petty Blue and Sassy Grass Green. I had already purchased the 440 Hockey Stick stripe and all I needed now was the body color. The green was laid down by a good friend and assembly would consume every single night and weekend for the next nine months.
With 40 just around the corner there was no time to waste. I had no idea how much I would learn as the more the rumors flew that I couldn't do it, or that it wouldn't be right when it was done the more determined I became that every single nut and bolt would be flawless. As the Cuda came together it was hard to believe something I dreamed of for so long was getting closer every day and at a level I could've never even began to dream of. Sand blasting every single part down to each nut, bolt and washer would prove to be time consuming and at times frustrating as most of this was done during the worst winter months.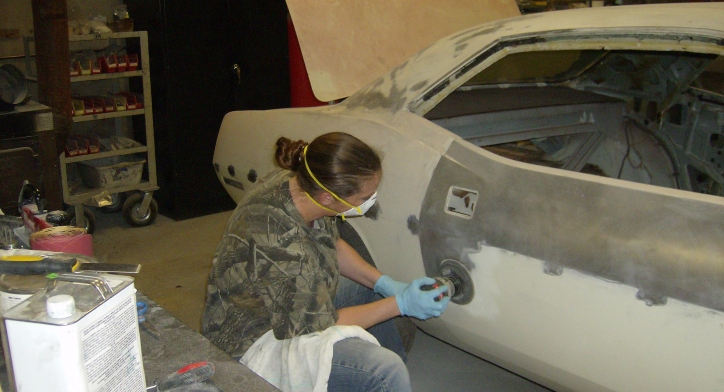 As the months rolled by it looked more like a car and every single part that went on seemed to fight me whether the paint wouldn't lay down right or the lines wouldn't line up where I wanted them but each day something got done although a lot of days you couldn't see the progress. During this process I continued to watch a 440-6BBL set up on Craigslist. After over a $3,000 drop in price, I finally spent the $1,800 and bought the intake with freshly rebuilt carbs and now my 440 Plymouth Cuda was going to be a 440-6 Mopar so there was nothing I could do but order new hood emblems to replace the 440 emblems I purchased. When you have a 318/904 car, you can do anything you want!
By this time my Plymouth Cuda original 318 engine that was built back in the 90's when I first tore the car down had now been handed down and powered my oldest son's 1974 Duster and still does today. The 440 was coming together and going in the car and it was time to place the order for all of the interior pieces I needed now that the Dynamat sound and heat barrier was laid down in the entire interior. That large parts order would take hours to find part numbers including research to verify it was the correct part for the car.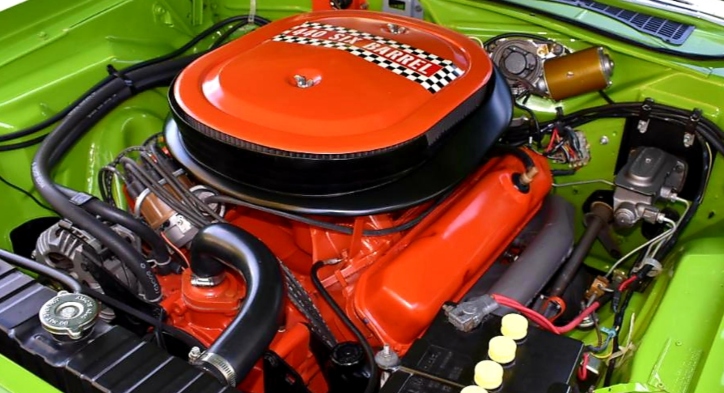 While placing the order Barrett Jackson was playing in the background on the TV. Two 1970 Plymouth Cuda's would roll across the auction block that would change my build one last time. That would be the first time I saw a Sassy Grass Green Cuda with Chartreuse strobe stripe being sold together with a Panther Pink with matching strobe stripe, both original cars. This detoured that order and I went on a search for the stripe kit. Phoenix Graphics would ship it out within a few days and now I had a color combo very few had ever seen or heard of.
The interior of the Cuda came together slowly as the complete rebuild of the original seats had its own challenges duplicating the original canvas, prepping and painting springs and getting the Legendary seat covers pulled in tight with the new foam with perfect lines all proved to test my patience at times. The hog rings were removed more than once and I received a lot of help to pull the covers tight enough. The wiring was now all installed and she had lights for the first time in over 20 years.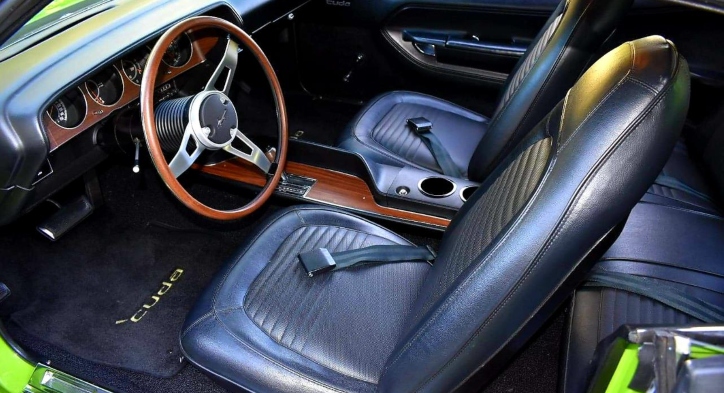 Firm feel suspension and steering would prove to make Fiona handle like a new car far beyond my expectations. The 8 ¾ rear end with 3.23 gears and 727 trans with a stage 2 shift kit would prove to be a decent package for a driver. I would lower the Cuda 1 ½ inches and set her on wheels that made her look like a Hot Wheels car with that color combo. She was on her own power with only a few things left to do as I celebrated my 40th birthday preparing to show her off at Hot August Nights 2014 in Reno Nevada in just a month.
TTI 2.5″ X-pipe exhaust with Flowmaster Super 44's is now wrapped around a Gear Vendor Over/Under Drive unit thanks to my husband Rick. He is also responsible for not allowing Fiona to every make a 15-sec 1/4 mile pass of shame again. Rick loves to push every car we own to the point of finding their weak spots. After a smoke show at a local car cruise he found that her modest 440 had stock push rods that he bent into lovely shapes that night. After that she received many upgrades but remains looking as stock as possible. The 1970 Cuda is powered by a mildly built 440 running in the high 12's.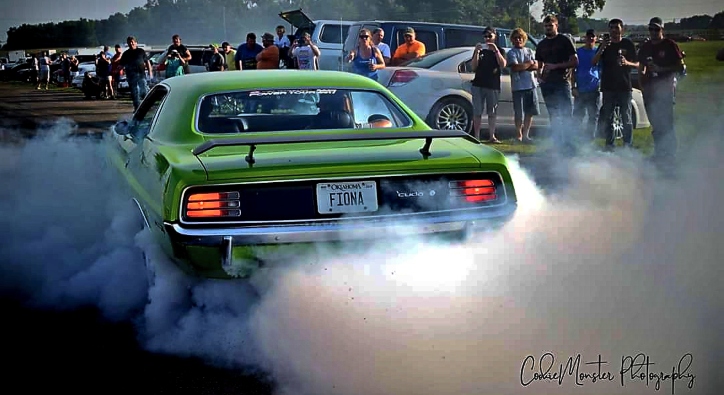 Rick is in the process of building a 499 Stroker with heavily ported Stealth heads, port matched six pack intake and extrude honed and polished Stock HP exhaust manifolds all machined by Larry Smith. This will make Fiona a respectable 11-second street car sitting on Billet Specialty wheels. A hidden aftermarket Rockford Stereo system has been installed as well as 4.10 gears and Strange Axles and driveline to support her new power train. The rear defogger switch powers the electric fan and the ash tray hides the power station for the Gear Vendor Overdrive.
My 1970 Plymouth Cuda will never be done, there will always be upgrades I am wishing for, but in the mean time we will continue to drive Fiona to honor my friend who I lost during the build to a battle of cancer. Rocky Lane had nick named me Fiona many years ago when the original Shrek movie was released. She bears that name not because she is green but because I lost a huge mentor and friend and I will always carry his memory with me.
There is only one more car I have my sites on to build. That 1972 Dodge Charger I spoke of in the beginning that belonged to my oldest sister Troleta would be sold in 1983 preceding her passing at 19 years old. That car would remain hidden behind a barn in Washington as a promise kept to my mom that she would never lay eyes on it again.
The car would be sold to a local man and in 2010 I would find it in a garage less than 10 minutes from my work. It was not for sale but after hearing the story he was more than willing to sell it for an outlandish price. I made a fair offer and was declined. He sold the car to someone else and I would not see it again until 2013 when a RV dealership in Portland OR listed it for sale. It was over an hour away and after a quick stop at the bank I went to buy it. It however had sold before I arrived. The car was gone from that point on and I had no idea how to find it.
Years later after constantly talking about it, Rick would find the 1972 Dodge Charger again for me. To our shock the car had arrived in Oklahoma 1 year before I did and it was only just over 3 hours from me. It is now a shell, no interior, no glass, no trim and no power train. Although the current owner doesn't want the car, he also does not seem willing to sell it to me.
I have already waited many years to get this Mopar, I am not giving up. I just hope it's meant to be and one day that car will be in my shop being built into a car she would smile down upon. In the meantime we have purchased a 1973 Dodge Charger to build in her memory which will be featured soon doing burnouts in my sister's memory.
Did You See Rick Hardee's Plymouth SWAGGAR Cuda Story?