We have featured two of the Hardee family Mopars in the past, but this 1971 Plymouth Cuda is something else. Pure Evil and Street Legal is what Rick calls this beast a.k.a. The SWAGGAR. Check out the video I put together for the car and read the full story below.
In the summer of 2017 Rick Hardee a.k.a. "Cuda Rick" of Miami Oklahoma found himself loading a 1971 Plymouth Cuda into his trailer somewhere in Nebraska against his better wishes. Rick tells us that it isn't the car he wanted.
It was a gutted out race car and I wanted a street strip car he shares, but my wife just kept saying this was the one and talked me into buying it. Even after initially driving away with an empty trailer. We pulled off the side of the road and she had me call the guy back and make an offer, and if he took it we agreed we would go back and get it. She was sure it was the one, I however was not.
Pure Evil & Street Legal!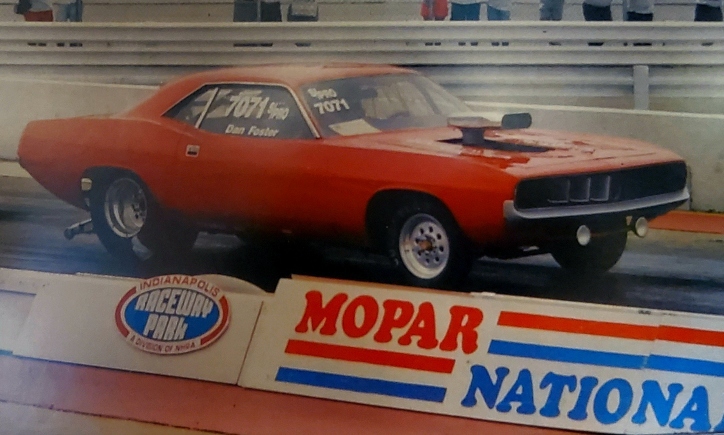 The Cuda had a stock 440 steel block stroked to 499 with 440-1 Indy heads with an Indy intake manifold. The car ran 9.90's in the quarter mile on alcohol. The 1971 Cuda was a stripped race car and hadn't seen the streets in decades. It had been very well cared for and had that old school nostalgia look that everyone seems to love.
The 440 had been paired with a 2-speed powerglide and narrowed Dana 60 running 33x15x15 slicks. Stock front K member, fiberglass front clip and trunk lid would surround the steel body. All the glass remained with the exception of the quarter windows that had been converted to lexan. It had been many years since this 'Cuda had seen its original butterscotch paint with a white billboard stripe and stock 340 engine.
Rick says in the summer and fall of 2017 he would take the 1971 Plymouth Cuda to the local tracks and events, but just still wasn't happy with it as just a track car. In the fall of 2017 Rick and Sharma would build the 1971 Dodge Dart "Olive" to compete in Hot Rod Drag Week 2017. After having a great time, but not truly competing Rick would decide later in 2018 to prepare the Cuda for the next years Drag Week Event.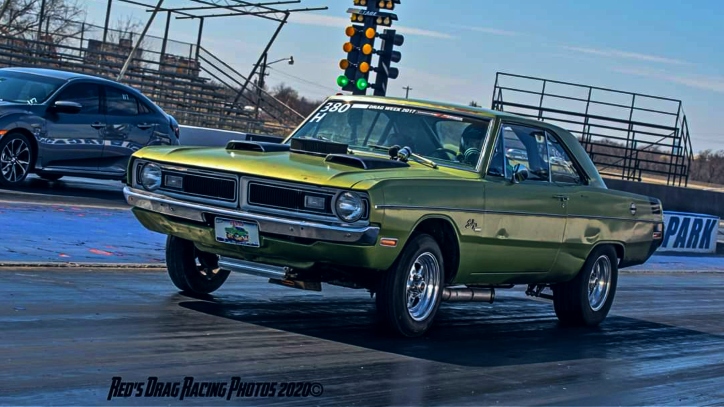 After getting the 1971 Plymouth Cuda home, Rick would find an unbelievable amount of documentation that came along with the car that included the entire build back in the early 80's and from all points forward. Including every detail of the engine, paint codes and even the hours spent devoted to the car were logged.
The man Rick had purchased the car from had traded the original builder for it and simply was scared of the car. He shared that he only took it to the track one time and the wheel stands and speed were not for him and he never drove it again and eventually listed it for sale and that is when Rick found it.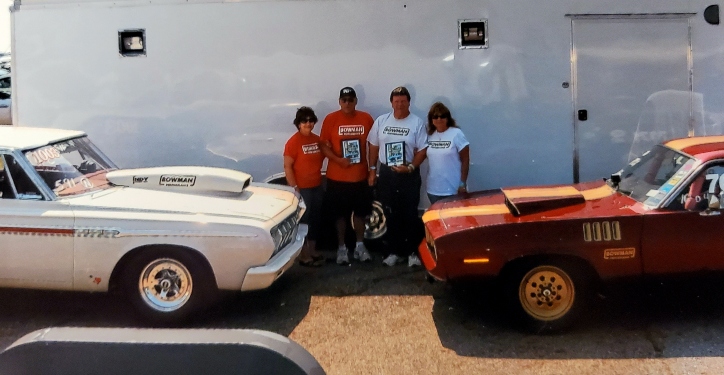 In that documentation Rick found Dan and Sharon Foster's contact information and after seeing the passion and love for the car all those years Rick knew he had to take the car up North to race with him again and let him see it.
Dan had it built in the early 80's and raced it for decades in Ohio and surrounding areas. Rick shares that he and Dan would spend hours on the phone and in the summer of 2018 Rick would bring the 'Cuda back up North for Dan to see again. We raced at Norwalk Monster Mopar and then Ohio Nationals in Columbus all in a three week period he says.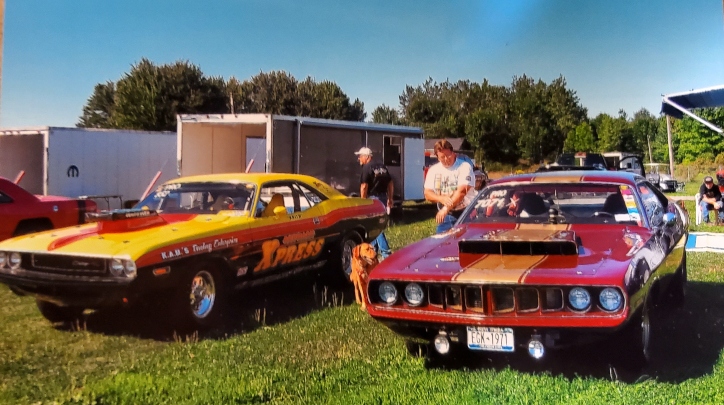 The Cuda had been fun up until that point but Rick was still longing for the street/strip car he always wanted. Rick had made a decision to take the car on Hot Rod Drag Week 2018 and started making preparations including sending another set of 440-1 heads to Larry Smith in North Carolina to be ported.
Drastic changes would be soon to come in the next few months. Rick would fabricate four red halo headlights into the grill, he added turn signals as well as brake lights. The cage finally got its 8.5 second chassis certification. He changed the slicks out for a set of 32×17.5×15 ET Streets. A hidden hitch was added for the little enclosed drag week trailer.
Rick's wife Sharma would lay Dynamat heat and sound barrier on the entire floor and wheel tubs and then cover it all in black carpet. The 'Cuda would get a custom console with cup holders and charging ports to make the drive a little more comfortable. Memory foam would find its way under the seat covers to cushion the more than one thousand mile ride to come on those hard race seats.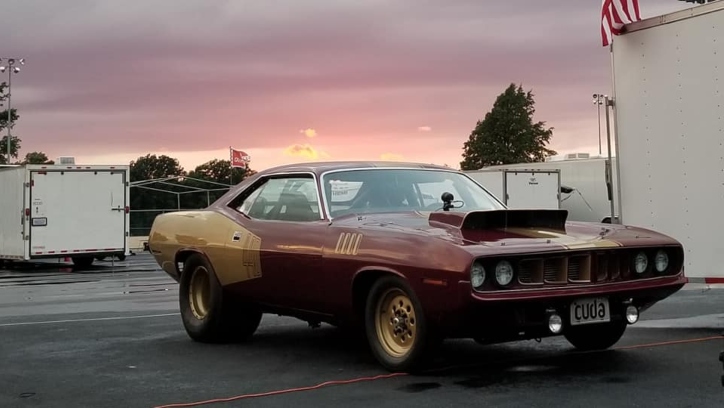 Rick would pull the engine out and swap out the 13.5 to 1 pistons for a lower compression of 9 to 1 to allow the car to run on pump fuel. Rick tells us he added a Nitrous system; he traded in the old Magneto style distributor and upgraded to a MSD 7AL ignition system with a new Billet distributor.
The carburetor would get changed out for a 1450 Dominator. Rick would upgrade the fuel system and regulator and would remove the old school cable tachometer and replace it with an electric Autolite Monster. A new SFI transmission bell housing was added for safety and the transmission stall converter would be changed out from a 5500 stall down to 3500 to accommodate the challenges of the Tennessee Mountains to come ahead.
Rick would run the car up the road less than a half mile and bring it back and load it in the trailer and head for Atlanta to start HotRod Drag Week 2018. After arriving in Atlanta and making his first pass, Rick and Sharma would then hook up the little race trailer and leave the truck and trailer behind as the 'Cuda would hit the streets for the first time in nearly 35 years.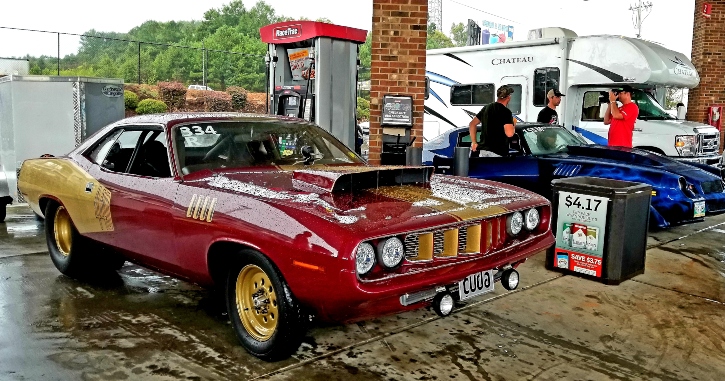 Hot Rod Drag Week 2018 presented some unusual challenges. As they left out of Atlanta headed towards Darlington North Carolina to complete in day two, they realized quickly they were in for a new experience. The very first night they would find themselves driving into North Carolina in the pouring rain headed straight into Hurricane Florence, which was expected to make landfall sometime the following day.
Around 2am as the highway was barely moving on the opposite side from the residence leaving under a mandatory evacuation. You would find the die hard Drag Week racers struggling to keep their race cars on the wet roads as they headed into the storm. Day two would get rained out and instead of the normal turn by turn mandatory route, we had been advised to get to the next track as quickly as possible in hopes to stay ahead of the storm and get a pass in before the storm caught up with us.
"We managed to make it through the next nights drive and arrive at Z Max Dragway in Concord North Carolina to start day three". Rick says he made his pass and came back to the pits with a hurt engine. That would be a start to a long night, or next few days he shared.
He told us that he had blown a head gasket and it had tunneled between #6 and #8 cylinders. He would need another set of heads to keep going. He said he reached out to Larry Smith who he mentioned earlier he had shipped his spare set of for porting to and Larry stated he had 45 minutes of work left to do on the set of heads and was about an hour from the track. Larry showed up a couple hours later hand delivering the heads.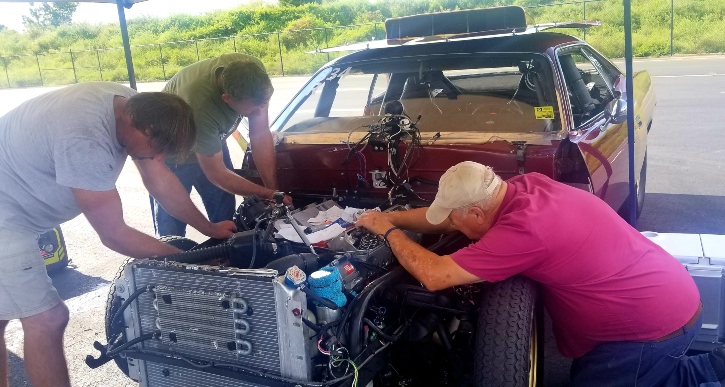 At that time Rick realized the set of Indy 440-1 heads that had been on the car had been milled 200 thousands. This meant that the pushrods would be too short for the other set of heads and the intake had been milled and would no longer fit.
Larry got on the phone with some local friends and found a set of press fit push rods that were to long but could be cut down and fabricated to work. Larry set out on an hour and a half round trip to pick up the push rods while Rick, Sharma and good friends Darren and Sharri Gebhart stayed behind to disassemble the rest of the engine.
The rest of the night would be spent making custom push rods with a battery powered Makita grinder with a cut off wheel, mini propane torch, a set of bi-scripts and hammer. Larry, Darren and Sharri all stayed the entire night to help get the engine reassembled.
Rick fired his 'Cuda up around 4am and they watched the sun come up as they climbed the hills of Tennessee headed into Bristol. As the car made a left turn into the breath taking view of Thunder Valley Raceway it would break the passenger side lower ladder bar link. Rick borrowed a welder from a fellow racer and made a quick repair and took the car up to complete his pass down the track with only a few minutes to spare.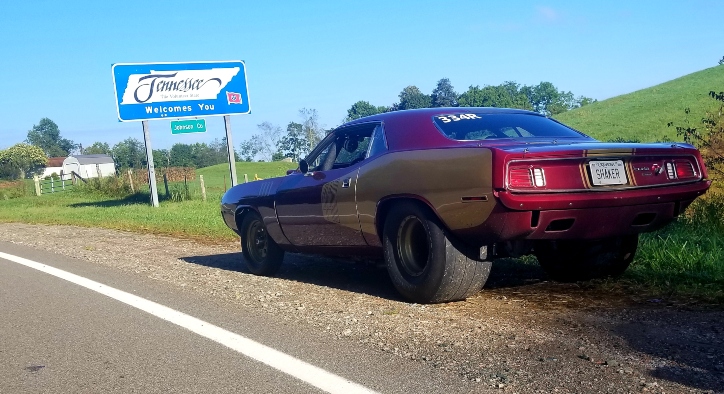 With no sleep Rick and Sharma headed back towards Atlanta in hopes to arrive in time to get some sleep for the final race. The night before had proven to be difficult on many of the racers and their cars. The dark wet windy roads in Tennessee left many cars in rock walls, broke down or crashed under the slick road conditions as Hurricane Florence was still on our tail.
It turned out that we were fortunate to make that drive to Bristol in the early hours where daylight and dry roads may have spared the Cuda. As the rain once again caught up with us Rick said he would find his driving skills were unmatched for the slick wet roads and ET Street tires and they would find themselves drifting off the highway into a sunflower field in full bloom.
The Cuda was unharmed as he backed up on the road on its own power leaving it's mark as a perfect square knocked down in the sunflower field where the car had came to rest. Rick and Sharma made it back to Atlanta still with no sleep to complete his final pass and finish Drag Week.
During that trip Rick shares with a cracking voice that he received devastating news that his mom had been diagnosed with terminal cancer and been given six months to live. After Drag Week Rick only took two more passes in the car. The car had never ran right since it blew the head gasket and he shared that his next run at a local track his transmission gave out. The car still wasn't sounding right so Rick said he tore the engine down and sent the block in to be machined.
The block came back in 2019 and as began to assemble it he realized why it had never ran right again. He found a hairline split up the number three main journal and two more cracks half way up in cylinders number five and six. He realized this block was done and started building a new engine with his spare block. In the end that engine would meet its demise in less than six seconds due to a manufacture defect in the new timing chain that broke and destroyed three or four sleeves.
Rick shared that with his heavy heart about his mom he just didn't feel right about going out and having fun. So for the next year and a half he kept his wife's 1971 Dodge Dart going so she could race and they would show Fiona the 1970 'Cuda but Rick goes on to share he had no passion to do anything for himself.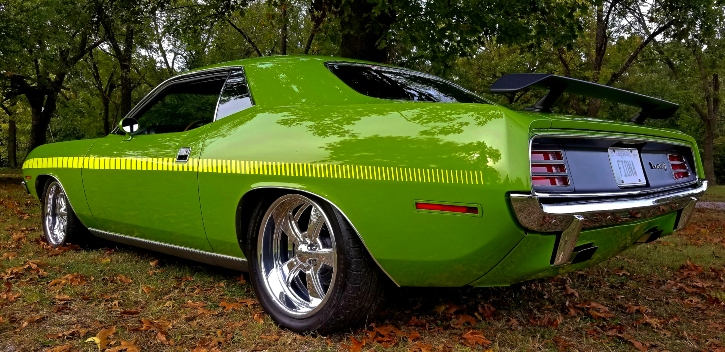 Sadly in July of this year Rick's mom would lose her long battle with cancer. Over the last year and a half Rick had acquired a new World 440 block and had started to build a new engine but never really could get himself motivated to actually put it together.
Early fall of this year Rick was reminded that a local race at Tulsa Raceway, Throw Down in T-Town was coming. He shared he had many fond memories of family and friends at that race in the previous years. This seemed to motivate Rick to finally build his engine and attempt to complete it in time for this race only a couple weeks away. The 'Cuda would come back this time with more power than it had seen in the past.
The 900hp pump fuel with 9 to 1 compression engine would be built for boost. The World Block would get a Callie's crank and rods. 4.5 Stroke with a 4.5 bore would create the 572 cubic inch engine that powers the Cuda now. Ross pistons, B1 MC ported heads flowing 485 with T&D paired rockers, a 55mm roller cam shaft and Keyway Jesel roller lifters sit on top with the B1 intake and 1450 Dominator carburetor with two stages of Nitrous all driven by a Jesel belt drive. Rick added a mechanical fuel pump for street driving and Moroso external water pump. Rick would then upgrade the outdated coil over shocks and springs.
The car would find itself in the pits at Tulsa Raceway for the race he wanted to attend but final assembly was still taking place. He made the race with a lot of challenges but it brought his passion back he says.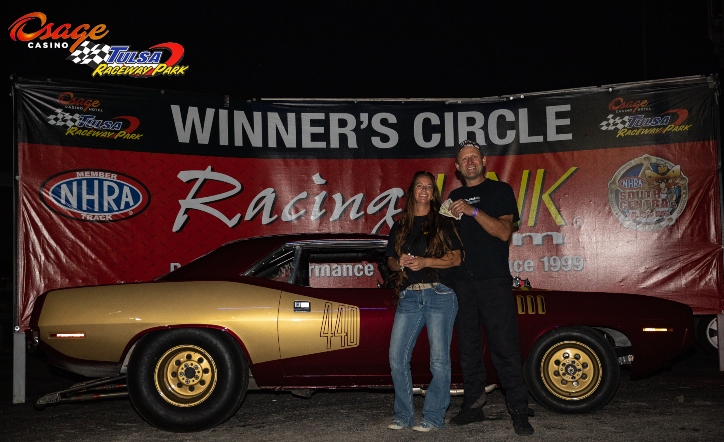 By now it was October and only a short time left in the year. Each time out to the track, with each new adjustment Rick would find the car running better and faster passes. Rick shared that he soon learned after his first Nitrous pass that wheelie bars were no longer an option, they are a necessity now. As one of the great local photographers Charles Judd patiently waited pass after pass to see those big bumper dragging wheel stands again, the wheelie bars were reluctantly adjusted down further each pass to get a better ET.
The 1971 Plymouth Cuda hasn't completed a solid quarter mile pass yet with all the changes there are still adjustments needed. The best run so far 1/4 mile has been 8.63 at 158mph and 1/8 mile pass of 5.50 at 128mph with a best 60 ft time of 1.22. Although this engine has a lot more in it and isn't finished tuning yet, Rick already picked up a new heart for the Cuda.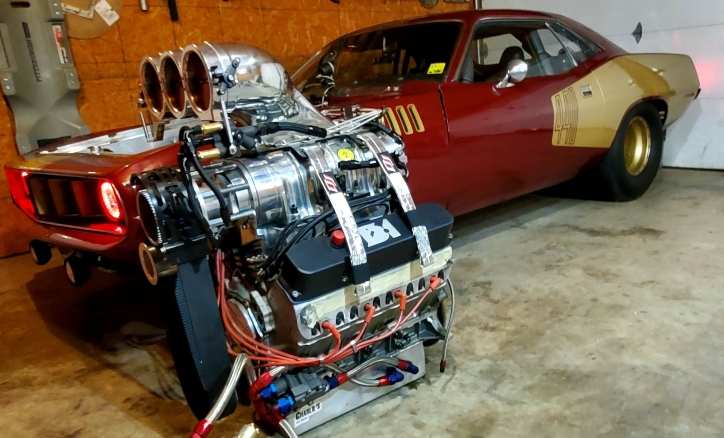 A blown aluminum Keith Black, 550 cubic inch engine will power the Cuda in 2021. Rick is hoping the 1,871 horsepower engine with B1 BS heads and a 1071 Little field blower will keep the Mopar with that old school look with passes dropping into the 7's next year.
Sometimes a car is not just a car. Sometimes it's the therapy you need to make it through a hard time in your life, or it's a distraction to get you through a tough day. Although in the beginning this wasn't the car Rick really wanted. He has transformed it into the street/strip 1971 Plymouth Cuda he always wanted and the upgrades will always continue.
You May Also Like the 1971 Plymouth Cuda Restomod Built in the 80's