The "Anger Management" 1974 Chevrolet Corvette is a high end hot rod built with no expense spared and has been in the Top 10 Custom Builds since the Corvette Reunion started. Check out the video I put together for Bryan's C3 Stingray and read the full story below.
Owned by the late Robert Proffer since 1980, the C3 Stingray Corvette was bone stock when Jamie acquired it after his Father passed away in 2009. Jamie on the other hand has always been into hotrods so when he decided to built the Vette as tribute to his Dad, he wanted to make everything custom and do most of it by hand. He knew exactly how the 1974 Corvette would look and that if you're going to do it, you have to do it right the first time. With no expense spared and top notch builders from the area helping him, the Corvette turned exactly like Jamie imagined. That was his way to deal with his Father's death and he named the car "Anger Management".
"I only sold the Corvette because I knew you, and I knew it was going to the right place. I hated to see the car go, but I really didn't want to work on it anymore. Bryan, good luck with the Vette and enjoy my labor of love for over 10 years. Lots of thoughts and memories are in that car"
Bryan is very excited to own the beautifully built C3 Stingray Corvette. He will preserve the name of the car as it is part of its history and the fact that "Anger Management" will be official Rat Fink drawing makes him even happier.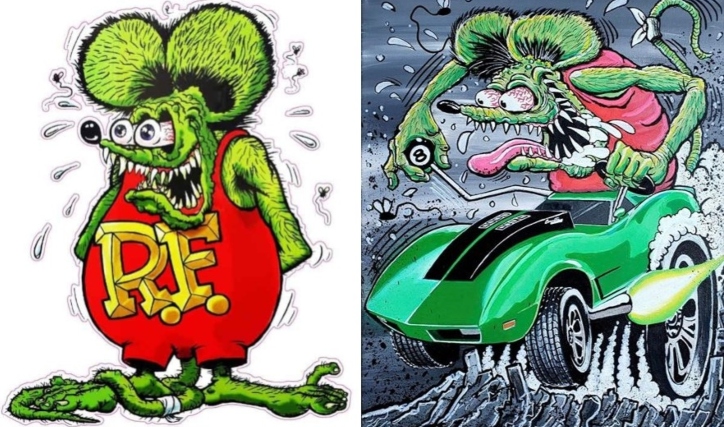 Now let's talk about the build. Started as a bone stock 1974 Corvette, the car now has 1980 tail panel and one-off custom wheels wrapped in Mickey Thompson drag radials at the back and front runners on the front. The driveshaft is from DynoTech Engineering, the rear is Ford 9-inch with 33 spline Moser axles 4 link and diagonal with double adjustable AFCO shocks on the rear.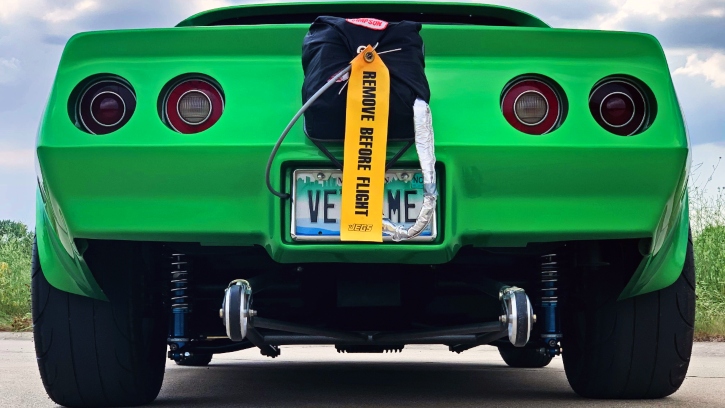 The "Anger Management" Corvette 11 to 1 compression 540 Big Block engine is build by A&A Machine. It is dressed with AFR aluminum heads, Trend Performance push rods, Jesel roller rockers and roller cam and topped with Pro Systems 1150 Dominator carb. The C3 Corvette makes 875 horsepower with 720hp at the tires sent through reverse pattern Turbo 400 transmission with Outlaw shifter trans brake and PTC 4000 stall converter with lock up.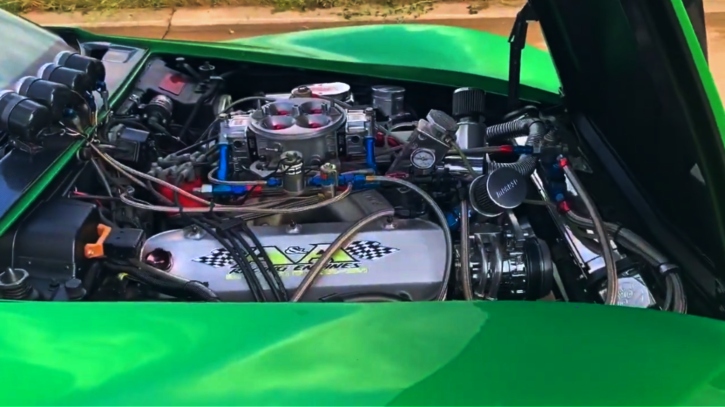 The exhaust system starts with set of Stainless Works headers that go into stainless 5-inch side pipes. The drop-off parachute will be soon replaced with Stroud launcher chute. The wheelie bars and cage are provided by EC1 Race Cars from Davison, MI. Ensuring the 1974 Corvette stops as quick as it accelerates are line lock front breaks, hydro boost system and aerospace calipers powder coated to match car with slotted and drilled rotors.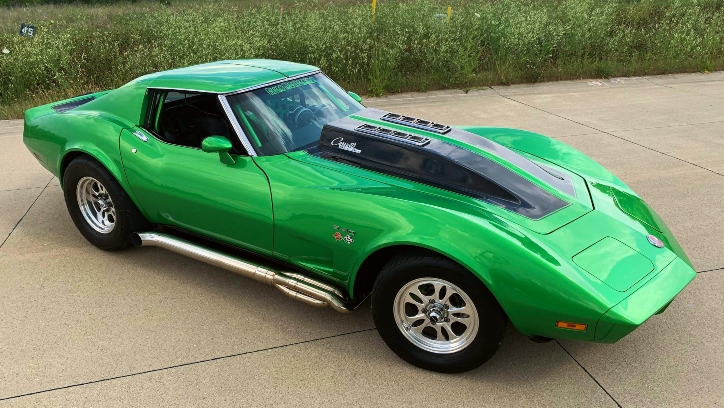 To fight the heat "Anger Management" is equipped with Be Cool dual aluminum radiator with dual fans. It has electric water pump, MSD distributor and wires with a MSD 6AL box. The single chrome wire alternator with air conditioning are currently not hooked up. Rick's all stainless fuel system and Aeromotive fuel regulator. Last but not least, the Stingray Corvette has untouched 200 Big Shot Nitrous plate system, which is going to be used soon at the track.
You May Also Like Jimmy Pinsky's 1957 Chevy Bel Air Video