2014 Moparty At The Strip (MATS) Event.
In this Hot Cars video you will see plenty of striking Mopar muscle cars gathering for the 12 year old event at the Las Vegas Speedway in April 2014. Dodge, Plymouth, Chrysler…Slick Pro-Tourers, Mean Dragsters, Wicked Hot Rods…Everything you can think of.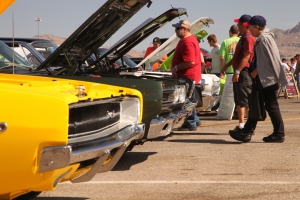 The MATS is on a different level, here you can see rides and learn things that are never seen at Good Guys or any other car show. If you haven't been at this event you should definitely check out this video. It will make your heart skip a beat.
You can read about the top 10 Mopars here. Watch, Enjoy & Share!