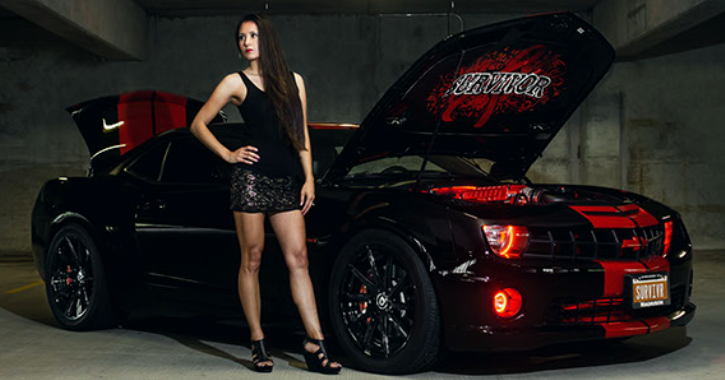 The Power of Passion – 2010 Survivor Camaro!
For most of us the love for muscle cars comes at very early age, but that's not the case with Kristen Benavides. She becomes passionate during the most critical and tough time of her life –  the fight and the conquering of leukemia. After surviving a disease that have been fatal for many, Kristen comes back to life stronger than ever and with new hot outlook, which includes a multiple award winner custom 5th generation Camaro Super Sport, that she calls "Survivor Camaro".
The Kristen Benavides Chevy Camaro SS builds upon the beauty of the iconic Camaros, to create a monster of black and orange. The exterior of this modified 2010 Camaro SS comes custom painted with Inferno Orange Stripes over a metallic black. Every inch of Kristen's Survivor Camaro is designed to the theme of orange on black. The tail-lights are blacked out with an orange border, the wheel rims are powder coated black while the brake calipers are power coated orange, every detail shows a subtlety in aggression that is rarely seen in muscle cars. And somehow, that makes it even more menacing.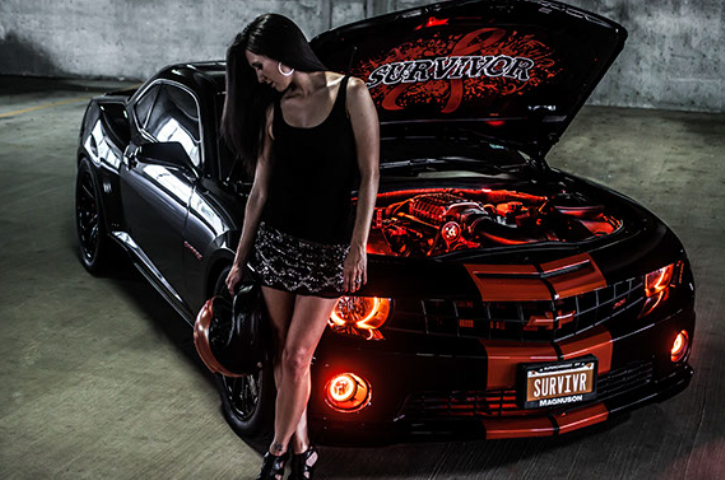 The engine and drivetrain of this custom built Camaro Super Sport has has been modified to churn out some serious power. Each part of the drivetrain includes the best parts such as 850 fuel injectors, camshafts and pushrods/valve springs from Comp Cams, retrofit Kit from Trunnion, TVS 2300 Magnuson Supercharger unit, long tube headers from American Racing, 4 Inch quad tips, Dual Fuel Pump from Livernois and a 1:1 Rear Cog pulley set up.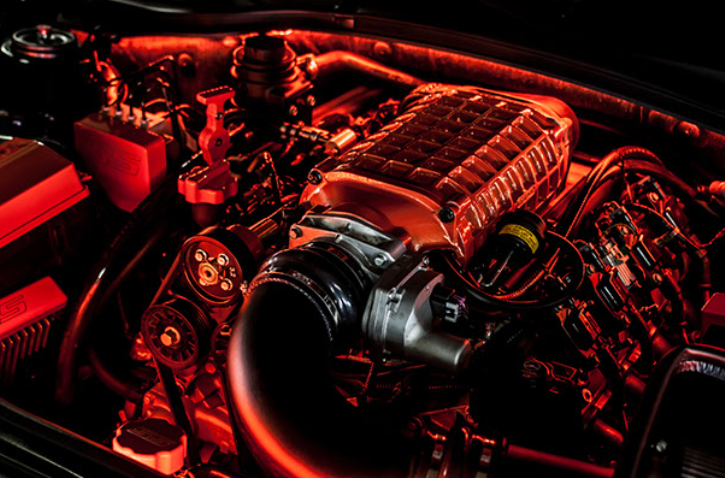 Image Source: TheSpeedGirls.com
The interiors of this Supercharged 2010 Camaro SS come as detailed as the exterior with Orange Halos, orange engine bay light, interior door knobs and dash knobs painted inferno orange, oracle grill lighting. Opening the truck will show you a custom light up Survivor trunk set up. The real gem of Kristen's 2010 Chevrolet Camaro is revealed when the hood is propped up, displaying the custom-made "Survivor" hood liner.
Check out the video. Watch, Enjoy & Share!
[sdonations]1[/sdonations]