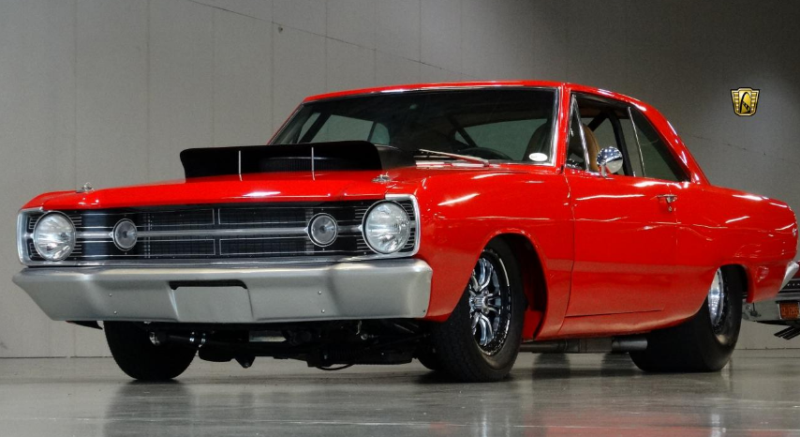 Viper Red 1968 HEMI Dart Custom!
Looking at this Pro Street 1968 Dodge Dart I am trying to find the proper words to describe it and I am thinking something between a race car and high end cruiser sounds about right. After the body is rebuilt AAR style fiber glass hood and Super Stock hoodscoop are installed to make this Viper Red '68 Dart look even meaner.
The suspension is upgraded to Art Morrison in the front and X-link with ladder bars at the back. The final touch helping this Mopar muscle car to achieve the killer Pro Street look are the front Weld wheels and huge Double Beadlock's at the rear.
Inside this custom built Dodge HEMI Dart you will find a racing style SCAT Sportsman tall buckets, Tuff steering wheel, shifter from B&M and white face Auto Meter gauges proving once again this is a high end Pro Street build. If you are looking for an audio system you won't find one. The only sound this beast makes is trough the custom fabbed exhaust.

Under the hood is where things are going really crazy. This Viper Red 1968 Dodge Dart packs an Indy Cylinder Head built monstrous 605 cubic inch V8 motor with aluminium block, forged crankshaft, Eagle H-beam rods and Comp Cams solid-roller camshaft. The result from the above is 836 horsepower and 752 pounds of torque controlled by a 727 Transmission from J.W. Performance.
See the video brought to you by Gateway Classic Cars. Watch, Enjoy & Share!