The Rob Cleland built 1969 Chevy G10 is without a doubt one of the wildest hot rod stories we have featured on Hot American Cars. Check out the video I put together for the "Boogy Van" and read more on the build below.
When you take a closer look at this super cool custom 1969 Chevy G10 a.k.a Boogy Van you can't expect the owner to be a regular gearhead. The Blown Boogy Van builder and owner is a Veteran of the USAF who has served overseas in Desert Shield/Desert Storm as well as in Panama. Rob Cleland from Fairfield, California is not only proud of his service, but also helps his fellow veterans in need. With the support of his family and crew at Xtreme Xhaust, he holds an annual charity car show with all proceeds going to local veteran's groups.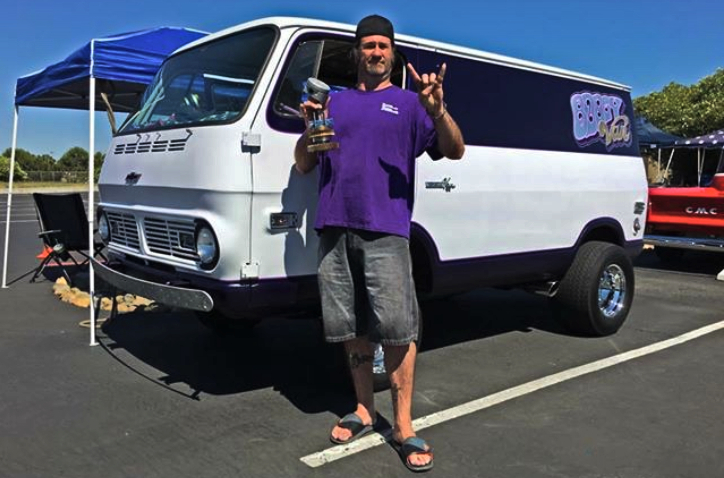 Now let's take a closer look at the remarkable 1969 Chevy Boogy Van. After looking at it every single day for 8 years, Rob has decided to stop by and ask if the owner is willing to sell it. He has bought the handy van from the retired 9/11 FDNY Firefighter Shawn for $500 and spent a little over 3 years to transform it into the awesome Boogy Van you see today. In fact, Rob and Shawn (on the picture below) are still very good friends.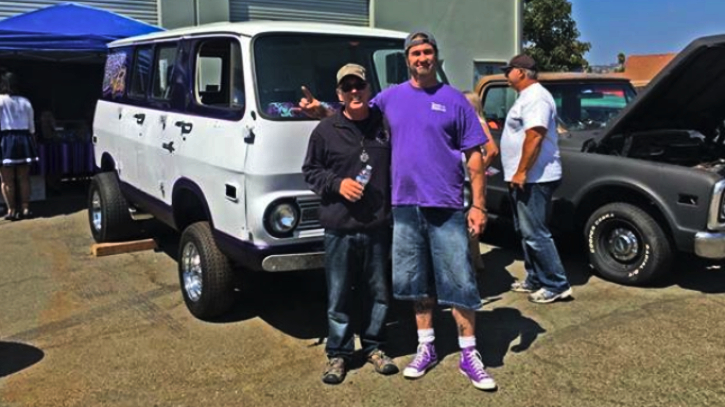 While these Chevy vans were rolling on the streets back in the 70's as loved machines painted in bright colors, riding on mag wheels and powered by hopped up engines, Rob's Boogy Van has a bit more power to be considered a love machine. The 496 cube Big Block Chevy V8 with 8/71 Weiand blower fed by dual 600 Edelbrock carbs stuffed between the seats kicks in 850hp controlled by TH400 transmission and Ford 9″ rear end.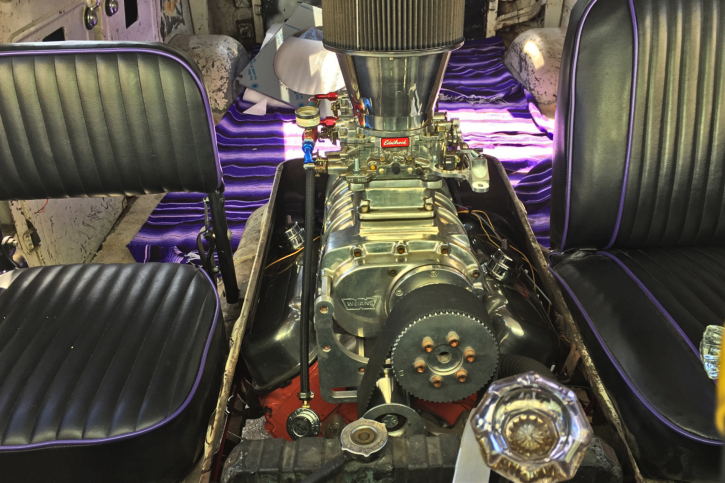 Apart of the cool paint job Rob has kept the 1969 Chevy Boogy Van body pretty much stock, riding on custom subframe and set of Cragar's wrapped in Mickey Thompson's. Since Rob relies on a full-manual tranny he has found another use for the clutch, which perhaps is one of the most interesting mods the hotrodder has done to this ride. Its new role is to be part of a dual brake system, with the clutch pedal serving as a mechanical line lock.

The 1969 Boogy Van is not Rob's only hot rod, in fact he owns three T-buckets all Chevy powered, which you can see on the Xtreme Xhaust website linked at the top of this article. If you built or just bought a hot rod and would like to show the petrol heads around the world don't hesitate to shoot us an email. We can have your story featured on our website and YouTube channel as well as shared across our social media channels.
Did You See the Blown Big Block Chevy Gasser Truck Story?