How about a 1000+ horsepower small block 1973 Chevy Camaro street car with 8-seconds ET that launches with the front wheels in the air? I know you have to see this beast, so hit the play button to watch the video story we put together for David Roy's Z/28 Camaro and read more on the build below!
Purchased this 1973 Chevy Camaro for $1,000 back in 1985 with no interior and drivetrain when a drunk driver took out his current ride, David had to install wheels and rearend just to get it home. Later on at a Family Get Together his brothers helped him to put in a motor and a tranny.
Dave has changed many set ups on his Z/28 Camaro during the years: Dual Quad's, Single Dominator / Nitrous Fogger, EFI Hilborn 8 Stack. Couple of 355 cube small blocks, and a 461 GM Rocket Block w/Brodix 215's, but always with the intention to race it and drive it on the street.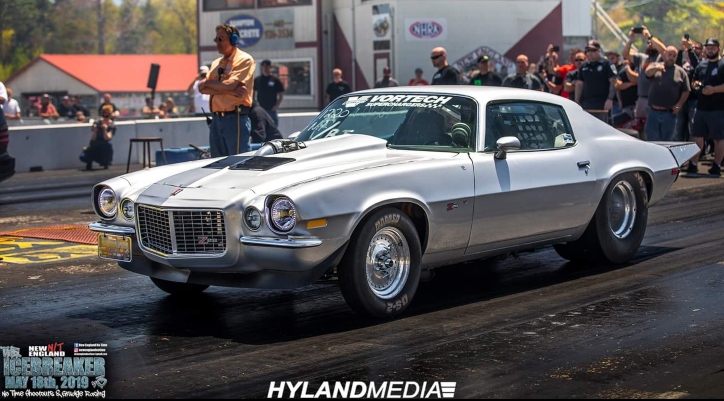 Dave's 1973 Chevy Camaro Z/28 current package is a Mason's Racing Engines built Dart Iron Eagle Raised Deck SB 454 with Vortech V-30 94B Supercharger producing over 1000 horsepower.
It has 4 1/4 Callie's crank, Oliver 6.200 billet rods, J&E custom pistons, AFR 245 spread port heads, complete Crower valvetrain, Wilson Competition port, injector bungs and fuel rails, Wilson billet 4500 elbow, 105 throttle body, Chiseled Performance Air 2 Air intercooler and Complete MSD for Spark.
All that is controlled by Holley Performance HP ECU and the power is sent through T400 transmission with brake, M&M converter, 9-inch rearend, center section and axles from Strange Engineering.
Don't Miss Abel's 540 Big Block Chevy Camaro Build Story