At first I was impressed by Donnie's Big Block 1969 Chevy Chevelle SS that he calls "Bertha". The car looks old school, sounds awesome and runs great. Then we talked for a while and I realized this was much more than another cool muscle car story.
This is something to remind us, that if we ever hit the bottom, we shouldn't lose faith and things will only get better! Check out the video I put together for Donnie and his '69 Chevelle and read more below.
I can't even imagine how frustrating is to find out that your best friend and your wife have been fooling around for about 12 months. At the same time your Mother is dying and your wife takes away everything you have worked for in your life.
Can't blame Donnie for crawling into the bottle and getting in trouble considering the circumstances. Then God has sent Shawn into Donnie's life and as he said: "Out of nowhere I met my current wife, and she without a doubt saved my life"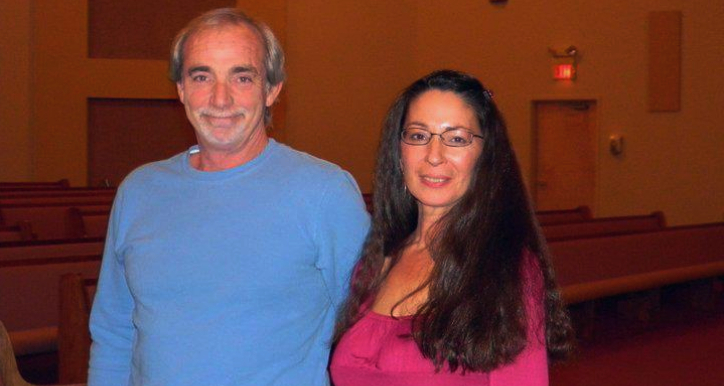 "I had met my wife in 2009. I was riding Harleys and was pretty much done with Hotrods. In 2011 my Father in law was building a '79 Malibu. The guy that was helping him died suddenly of heart failure. He ask me if I was interested in helping him finish the car, at first I wasn't interested, but my wife ask me to reconsider, and I did.
Once the car was finished, I was kind of looking around for something special. I knew what I wanted and I knew what I wanted to do with it. By chance I found Bertha. I ended up having to chase the 1969 Chevy Chevelle SS through 3 owners before I was finally able to buy it, and by that time it was just a gutted out shell."
The 1969 Chevelle SS Build
Everything was stripped out of the car, but Donnie only cared about the body and he dragged the 1969 Chevy Chevelle SS home in September of 2013. By May next year, he managed to put the car back together and had it running. Didn't think about racing it as Bertha kept breaking engines and transmissions.
In 2016 Donnie was making a charge to finish in the top 10 in NMCA Open Comp. Then at the Atlanta race he was number 1 qualifier and had a bye into the second round. On Sunday morning when he fired the car it had a serious knock. He loaded it up and made the long trip home.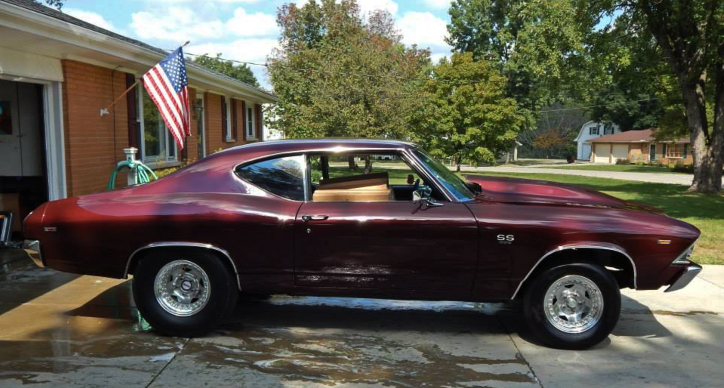 Then Donnie put a 565 Big Block together for his 1969 Chevelle. But on the very first pull the dyno broke, free revved the engine and bent every single exhaust valve. That was taken care of, the motor was dynoed and back in the car.
However, two weeks later it dropped number 6 exhaust valve. That was when Donnie decided to give another engine builder a try and got in touch with Scott Foxwell. Six months later he picked up the Foxwell Motorsports built 565 BBC engine. With the new motor, front springs and all four shocks, Bertha went 9.16 seconds at 146.77 mph. That was in 3000 feet DA, over 100 water grains and 87 degree temp.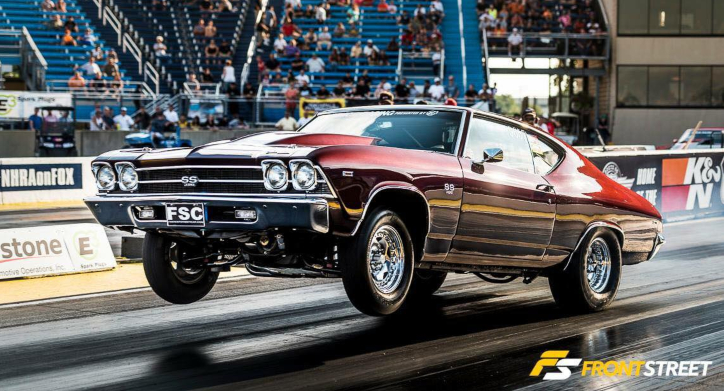 The '69 Chevelle Specs
Big fan of Monty Berney and his '55 Chevy's, Donnie named his 1969 Chevelle SS "Bertha". A tribute to Monty who died at the time Donnie was building the car. Bertha is a 3,700lbs solid all original panel car with 10-point Moly cage. Repainted only once in Dark Red Mica.
Bertha spins Sander Engineering wheels 15×8 with a 4 1/2″ BS on the rear and 15×4 with a 1.7 BS on the front. The rubber is from Mickey Thompson all the way around with 27.5x4x15 front and 29.5×10.5×15 Pro Bracket Radial slicks on the back. No manipulations are done to fit the rear tires.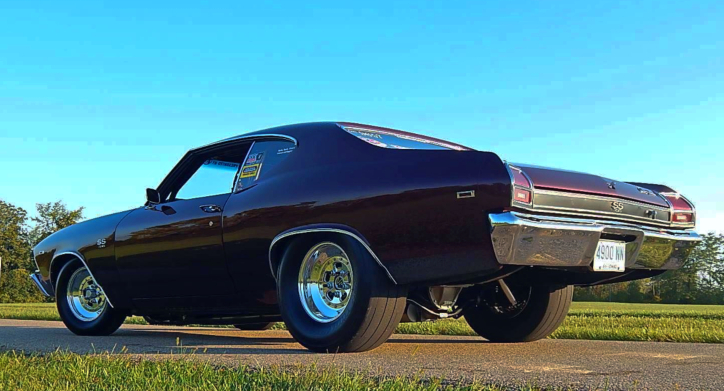 The 1969 Chevy Chevelle SS rides on Global West Drag Pack front suspension with TRZ Motorsports bump steer kit. It has double adjustable upper and lower rear suspension and anti roll bar. Menscer Motorsports double adjustable shocks are on the front with GM conversion coil overs.
Afco Eliminator double adjustable shocks with QA1 variable rate springs on the rear. It uses disc brakes from Strange Engineering on all four corners. The rear end is 12-bolt Chevy with Strange Engineering 35 spline Pro Race axles, Spool and c-clip eliminators with Richmond 4.11 Pro Gear.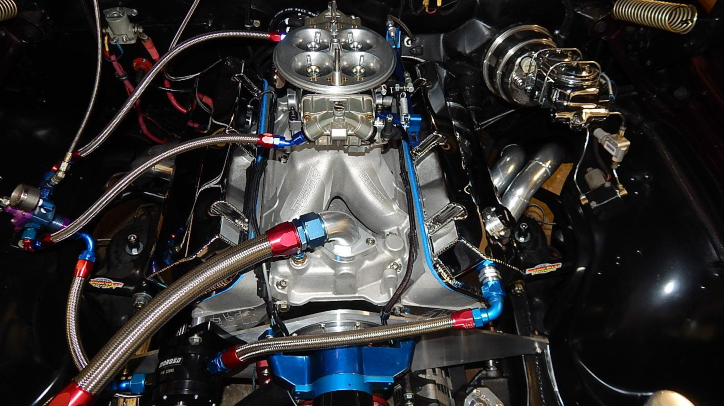 The '69 Chevelle Engine
Bertha's heart consist of a Dart Big M block 4.600 bore with custom AFR Magnum cylinder heads enhanced by Scott Foxwell. Callies Dragon Slayer crank 4.25 stroke, Oliver 6.385 rods, Ross gas ported pistons, Pro-Filer Sniper II intake, BRE 1250 CFM Dominator.
The 1969 Chevelle has Harland Sharpe shaft mounted 1.7 roller rockers, Straub billet solid roller cam with a 7/4 swap and Black Mamba roller lifters that activate a set of Smith Brothers 7/16" push rods opening REV titanium valves.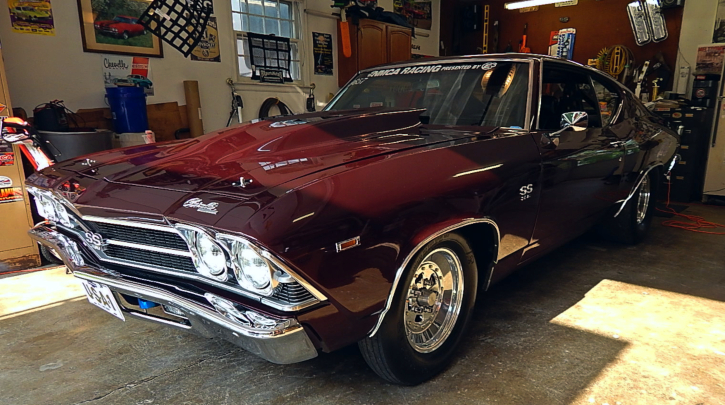 Donnie's 1969 Chevelle 565 Big Block Chevy engine is estimated at 1035 horsepower at 7300 RPMs and 804 pounds of torque at 5600 RPMs. The power is controlled by Extreme Automatics Turbo 400 transmission prepared by one of the best, Lonnie Dyers.
It has a Griner Billet Pro Tree transbrake, and 9-inch converter from Ultimate Converter Concepts. Bertha rumbles through Lemons headers and Burns stainless 4-inch exhaust with custom X-Pipe, and Flowmaster race mufflers.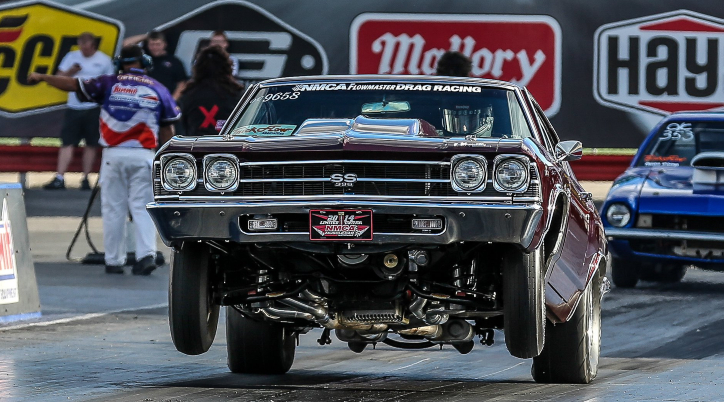 Donnie is confident that the car will go 8.90s, once the air is there and he gets the suspension dialed in to the new set up. You can see plenty of pictures of the muscle car on the D&S Motorsports Facebook page.
Donnie is thankful to God for giving him another chance to live a meaningful life. To his wife Shawn for giving him the drive and support to build another car. And of course to the people who helped him build the 1969 Chevy Chevelle; Chris Straub of Straub Technologies, Scott Foxwell of Foxwell Motorsports, Jeff Eads and Marks AutoBody.
Did You See Rick Crow's 1,000hp Chevy Chevelle Build Story?