Being a passionate Chevy enthusiast, Jimmy Dybo Pinsky has owned quite a few classics like '71 Chevelle, '70 Monte Carlo and couple of Novas, but he always liked the Bel Air. His wife encouraged him to get one for many years and in 2013, the wait was over. Check out the video I put together for Jimmy's '57 Chevy and read more details below.
Jimmy bought the '57 Chevy in January of 2013 from a dealership in Grand Rapids, Michigan. He only saw pictures online, the dealer told him it was a salvageable title car, which was in Indiana, then Florida and Michigan, but the Bel Air was restored in the 90's, looked pretty good and most importantly it was painted in Chevy Orange, which Jimmy loved the most of all colors and brought the classic car home in Brooklyn, NY.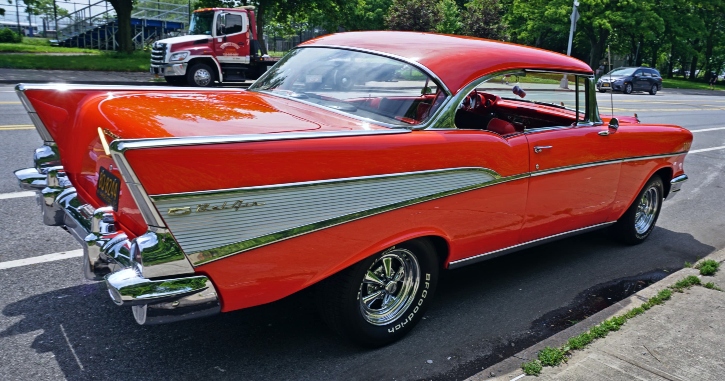 "I love all the chrome and stainless steel trim, it gives it a lot of character. It's tough to clean, but I don't mind, it's worth it. What I love the most about this car is the iconic fins, they are just awesome. I feel like a movie star when I drive my '57 Chevy around as everybody gives me thumbs up or want to talk to me about the car, and of course it makes me feel good people appreciate the Bel Air as much as I do."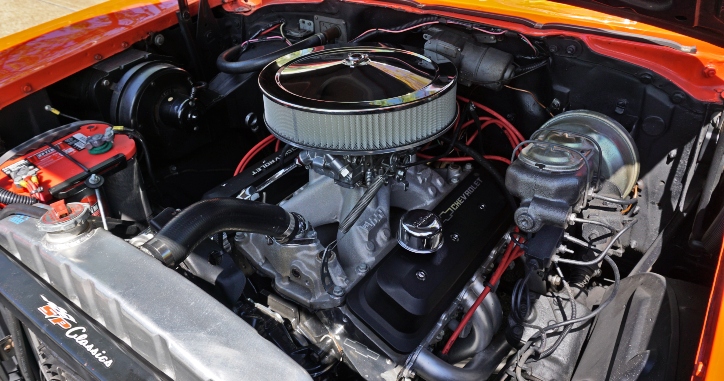 When Jimmy acquired the 1957 Chevy Bel Air, it had a 396 Big block mounted to 700R automatic with B&M shifter on the floor. He swapped it with the small block 350 ZZ6 engine as you get similar horsepower and torque without the extra weight and heat a big block produces. The motor has aluminum dual plane intake manifold, fast burn performance aluminum cylinder heads, cast iron block, fast fuel 750 CFM 4-barrel carb, HEI ignition system.
With the coated Hooker headers and Dual 2.5 inch Flowmaster 40-series exhaust system, Jimmy estimates the 350 ZZ6 engine at a little over 400hp. The power now transferred through Tremec TKO-600 5-speed manual transmission with Centerforce clutch assembly and Hurst shifter with a white shift pattern knob. The rear end is 12-bolt posi with 3.73 gears.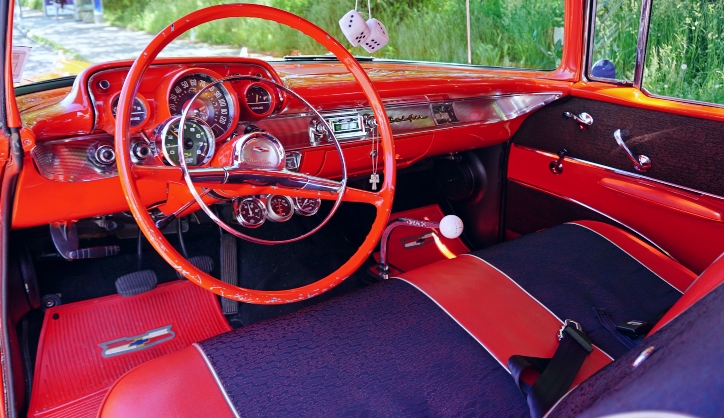 Jimmy's beautiful '57 Chevy Bel Air rides on Cragar wheels wrapped in P215/65/15 tires in the front and P255/60/15 at the back as this is the widest rubber you can have at the rear if you don't want to do a mini-tub. The car relies on power assisted front disc brakes and rear drum brakes for stopping and has manual steering. The classic car stereo kit looks like an old radio but with today's technology. It perfectly fits, so no cutting up the dash is required and the same goes for the speakers built in the original kick panels.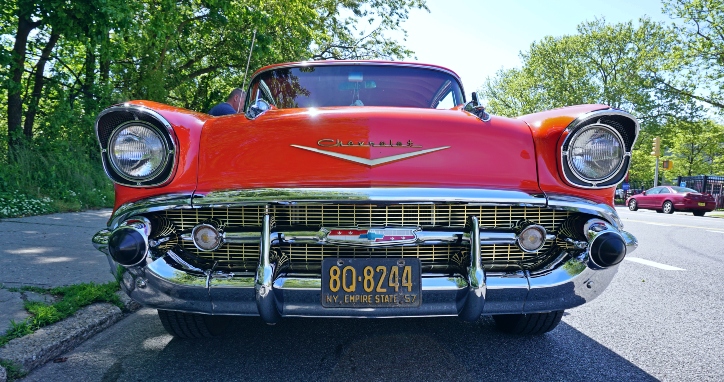 "My Orange '57 Chevy  won multiple trophies at car shows throughout the N.Y.C. area over the years, but she is not a trailer queen. When I have a nice straight section of road, I drive it like i stole it."
Did You See John Haldemann's 57 Chevy Bel Air Build Story?