The '57 Chevy has always been one of the most recognized American classic cars from that era. The top of the line Bel Air is very popular among hot rod builders. In this article we are going to take a look at one beautiful show car from the late 60's. It is owned by Carl Baumeister of Woodstock, IL, and known as "Brown Sugar".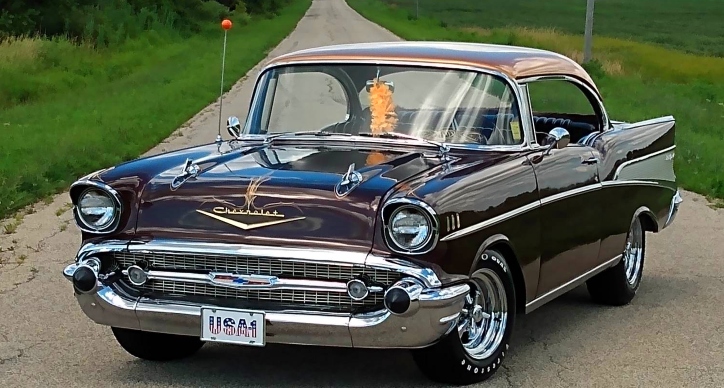 Carl's Custom '57 Bel Air Story
Carl bought the '57 Chevy Bel Air about three years ago. He has been working hard to put it back as it should be and most importantly in a drivable state. He reached out to me as he wanted to share his beautiful era correct show car with everyone who can appreciate a hot rod built mainly with mods from back in the day.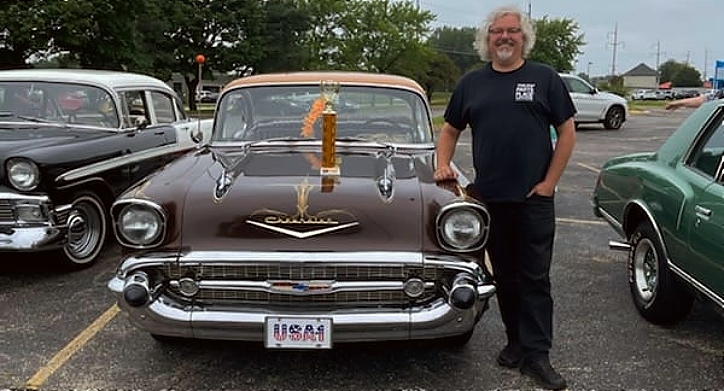 Never give up, stay your course and rewards for hard work will come your way!
Copper metal flake over root beer metallic enhanced with era correct, VonDutch style pinstriping make the "Brown Sugar" 57 Chevy stand out. External touches include, custom dual exhaust with "Purple Horny" glass packs and chrome turn downs at the rear bumper. Tail lights feature glass blue dot inserts, while the headlights are the proper T-3 bulbs.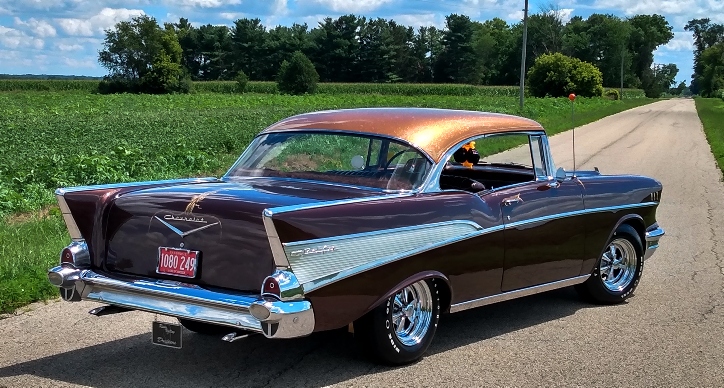 The interior is complete tuck and roll brown vinyl with custom shag carpet on the back deck and pipe organ speaker covers. Other interior mods added to Carl's 1957 Chevy Bel Air include, chrome barefoot gas pedal, Chevelle steering wheel, and Stewart – Warner gauges.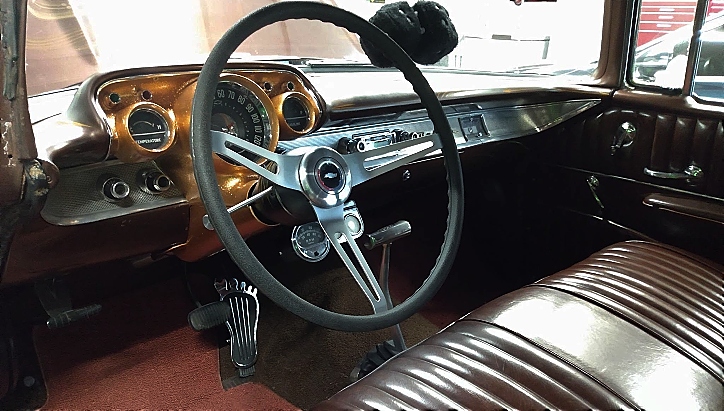 The '57 Chevy Bel Air packs a 283 small block V8 with four barrel Holley carburetor, lots of chrome and a set of polished Corvette valve covers. The engine is mated to 350 Turbo transmission operated with floor mounted B&M shifter.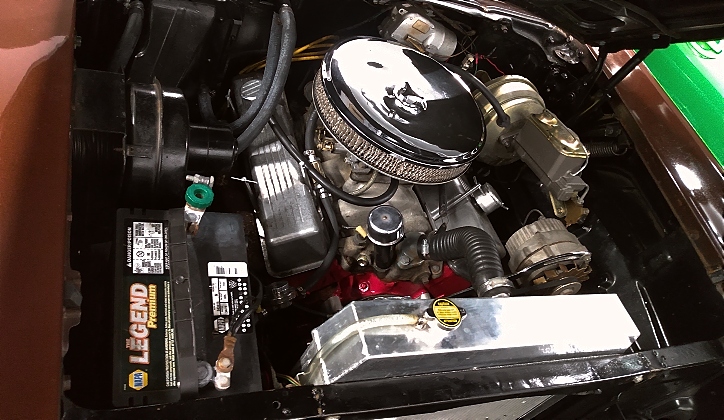 Getting the power to wheels was important back in the day and a set of custom painted copper metal flake traction bars help out in this department. Further traction action is handled by a set of Firestone wide oval's wrapped around Cragar's with tri-bar spinners.
I hope you enjoyed reading the story and looking at some photos of the "Brown Sugar" Chevy. If you have a nice hot rod like Carl Baumeister's custom '57 Bel Air and would like to share your story, don't hesitate to email me at: danny@hot-cars.org.
Did You See Jimmy's 57 Chevy Bel Air 350 ZZ6 Build Story?