Al Young's 1971 Plymouth Cuda 340 has a very interesting story. It was his first car, which he acquired at the age of 17, he built it in the 80's, won multiple trophies at various car shows and kept it exactly the same as if it's still 1987. Check out the video we put together for his beautiful E-body Mopar and read the story below.
My Cuda life started in 1977 when I was 17. I talked to my parents about buying a car to fix up since I was taking up Automotive in High School. I asked my brother Richie if he knew about any cars for sale and I was not into any particular brand of car, just any type to fix and sell.
Richie heard thru his friend Steve about this 1971 Plymouth Cuda 340 and we drove to Manhattan in NYC to see it. It was parked outside of this taxi cab repair shop and it was this purple car with yellow taxi cab wheels, white vinyl top, white interior, bench seat, rear spoiler, front rubber bumper, column shifted automatic with this scoop sticking out of the hood.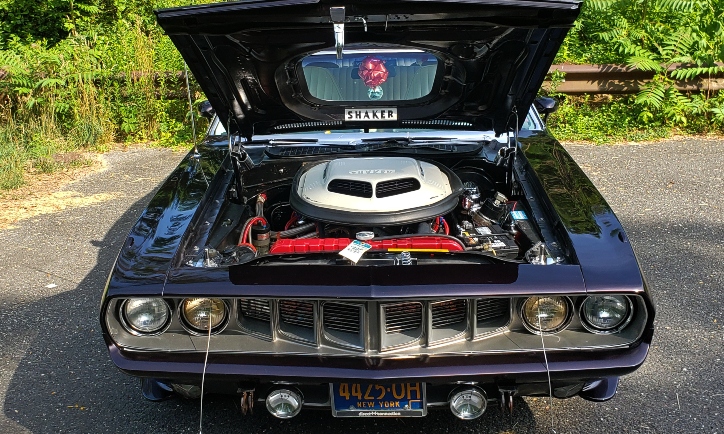 My brother thought that was cool because it "shakes" with the engine, so we took it for a ride. It was loud and fast, I could hardly see over the dash and for the price of $500, I was hooked. I fell in love with it and as you can see, I never sold it. The 1971 Plymouth Cuda was my daily driver until my insurance became too expensive, and I decided to store it away.
It was a long 5 years, and in those years I went to custom car shows in New York and became hooked on chrome and fancy paint jobs. Fast forward to 1986 and just like that I took the 340 Cuda apart, sent the complete front and rear suspensions out to get chromed. Torsion bars, steering parts, rotors, brake drums, axles, leaf springs, driveshaft, anything that unbolted was chromed. Then it was painted in Black Cherry with a white metal flake shaker and tail panel.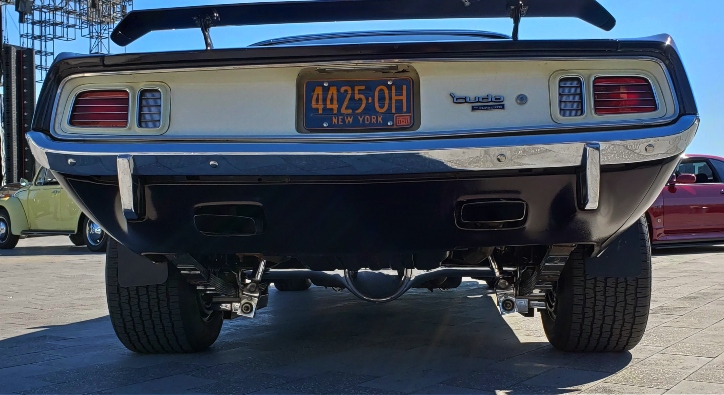 1987 was the Plymouth Cuda coming out party and my 1st car show – Mopars at Englishtown. We won many 1st place trophies at both indoors and outdoors. After many years on the show circuit it was time to do something else with the car, so why not movies or picture cars. I came close in a few movie roles but never picked. She is in a NYC band called The Dirty Pearls "Who's coming back to who" music video parked in front of the Don Hills club.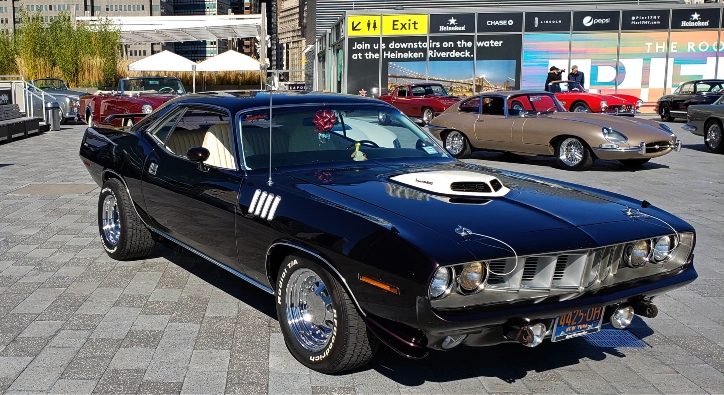 In 2019 New York City had its first rooftop concourse show and my 1971 Plymouth Cuda was invited. So, after all these years I still have my very first car and there are not many people that can say that. She looks the same as if it's still 1987. If I knew then what I know now, I would have left it all stock as this is a rare Mopar with these options…Oh well.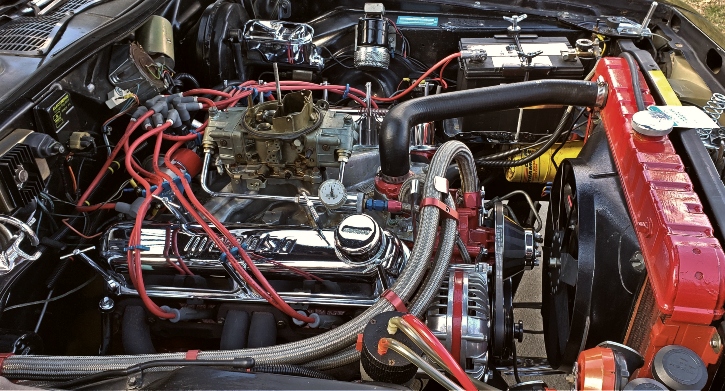 The 340 V8 engine is enhanced with solid lifter cam, Edelbrock Torker intake manifold and Holley 780 carburetor. The power is transferred through Fairbanks reverse manual valve body automatic transmission and 8 3/4 rear end with 4.86 gears. Interior is old school roll and pleated in white with a B&M shifter on the floor. The old school Cragar mags are wrapped in BF Goodrich rubber.
Don't Miss Rick's 1971 Plymouth "SWAGGAR" Cuda Story