You don't get to see many 347 powered '69 Mustangs, but Ed's Sportsroof is not your average custom build and it does not pack a standard 347 stroker set up either. Check out the video I put together for his 1969 Ford Mustang and read more details below.
In love with the iconic body design, Ed Curlee from Locust, North Carolina purchased this 1969 Ford Mustang Sportsroof in April of 2018 from Connecticut. Car was an original DSO to Boston district and spent its entire life in that area. Ed is the fourth proud owner of a fifty-two year old classic.
"Always loved the styling of the '69 Mustang with the jet inspired air scoops, sleek body lines, cockpit style drivers compartment, fold down rear seat, quad headlights (only year of the early gens that had that feature) and the forever famous intro of the shaker hood."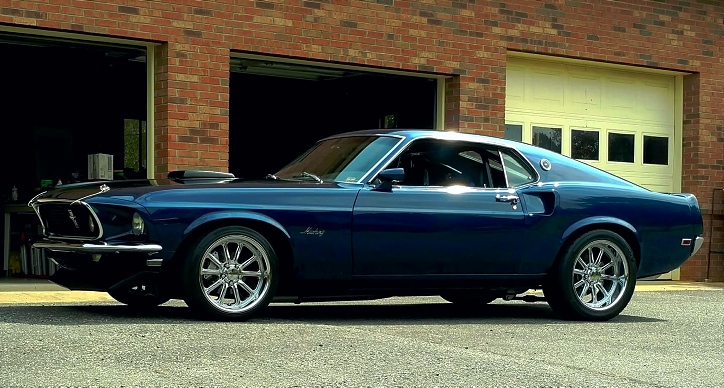 As you already saw in the video, Ed's 1969 Mustang Sportsroof is not exactly a restored classic, but more of a restomodded car. A top notch restomod I would say and the proof of that are the "Best 69-70" award at the 2019 Mustang Week Myrtle Beach, SC, and the "BadAss" award at the 2020 Mustang Week.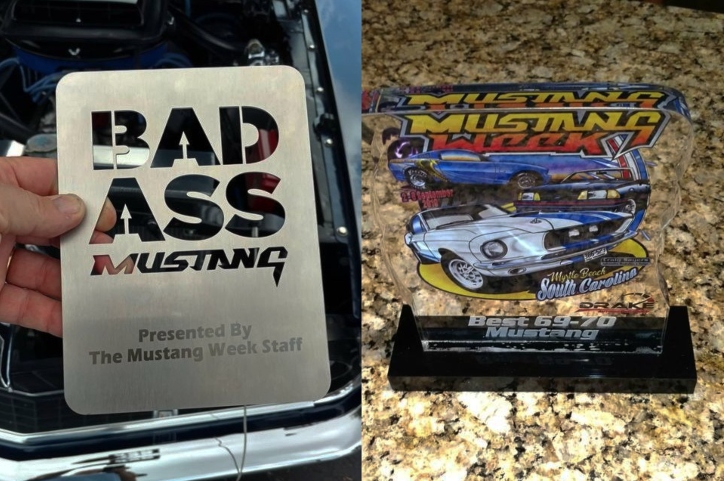 The 1969 Ford Mustang wears a beautiful Jaguar Dark Sapphire Blue Metallic paint, which combined with those chrome wheels really make the car pop. The interior features Cobra Daytona racing seats with custom upholstery to match the factory, Simpson belts, 4-point roll bar and Autometer gauges.
Ed's Mustang also has Rack and pinion steering, Aerospace Components 4 piston brake calipers, Subframe connectors, driveshaft loop, Competition Engineering traction Slide-links and adjustable front shocks. Exhaust system includes Hooker Super Comp headers, 3″ intermediate, Dynomax Super Turbo, mufflers and 2-1/2″ tailpipes.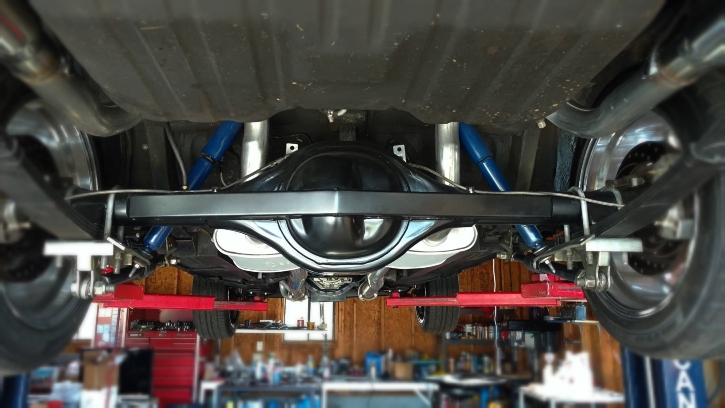 The 347 engine is SBF 331 base .120 over with Dart SHP block, Eagle forged crank, ceramic coated rod and main bearings, ATI balancer, Scat H-beam rods, Diamond pistons, TotalSeal gapless rings, Howard's custom solid roller, Lunati Hippo lifters, TF Twisted Wedge 11R heads, PAC valve spring assy, Harland Sharp rockers.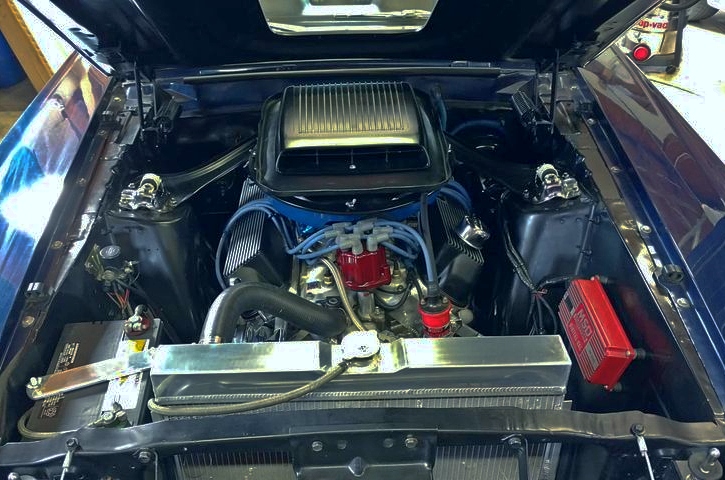 Ed dyoned the 1969 Mustang with smaller camshaft and made 568hp at 6,600rpm. With the new cam with more duration now to pull through 7,500rpm he estimates it at around 600hp. The power is controlled with ACT ultralight flywheel, Ram pressure plate, Centerforce Kevlar clutch disc, Lakewood bellhousing Richmond 6-speed and 3.70 geared Ford 9″ with Moser backbone reinforced housing & 31 spline axles.
"My configuration is only possible with Dart or World block because of bore size. A conventional 347 Stroker has too much rod angle (same as 427w). They work fine, but don't like high RPM's because of extreme angles. I utilized the larger bore and shorter stroke to maximize both hp and high RPM capabilities. This engine can and has exceeded 9,000 RPM."
Did You See Steve's 1969 Ford Mustang 460 Big Block Story?