Owner of a real 1969 Mustang Mach 1 since 1976 , Steve had to wait almost 25 years until he got a chance to start building the muscle car of his dreams. It took him another 15 years to complete the build, but patience and dedication paid off and the result is fascinating. Check out the video I put together for Steve's Mustang and read the story below.
It all started in 1976 when Steve bought this 1969 Mustang Mach 1 from his older brother for $675. The muscle car was wrecked, but still drivable and since he got couple of other cars at the time he didn't have to rush sorting it out. Here is how the rest of story goes told by Steve Stout: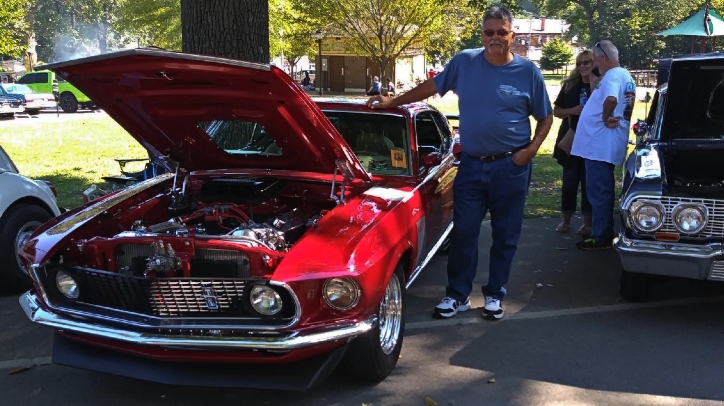 I grew up working on cars since I was 15, and got into the body business. Everyone I knew had street rods of all kinds. However I parked it in 1982 with a cracked head. I was married and had 2 kids. My 1969 Mustang Mach 1 would have to wait.

In March of 2000 the wait was over. I started with a plan on what I wanted the '69 Mustang to look like. Tubbed but still keep my interior with fold down rear seat. So once it was just a shell it went up onto a jig for over 4 years. Underside tubbed and completely molded undercarriage. All Stainless bolts, braided lines, and brake lines.

I've done the body work and painted the 1969 Mustang Mach 1 in Ford Laser Red myself. It rides on Budnik wheels wrapped in Mickey Thompson 31x16x15 Sportsman tires and has disc brakes on all 4 corners. The rear end is Ford 9″, narrowed by Moser with 31 spline axles and Richmond gears with an Auburn spool. The 3″ exhaust is all stainless steel with Flowmaster Super HP-2 series mufflers.

On the inside I have bucket seats from 2010 Mustang upholstered by Scott Heineman. It took me 4 months to fabricate the Walnut wood fold down Rear seat, which is still functional and the stretched side trim panels.
A local shop called Knieriem Racing Engines here in Louisville, KY did the motor. It is a Ford 460 bored .30 over with roller rocker arms and Dove heads. It makes 500hp+ controlled by C6 transmission with 3,500 stall.

With the help of his best friend Marvin Meredith, Steve finished the 1969 Mustang Mach 1 build in February of 2015 just on time for the last Carl Casper car show in Louisville, KY. The organizers had the car in the Modified Pro Street class where it won 1st place as well as Top 100, Best Interior and The Pick of the Show.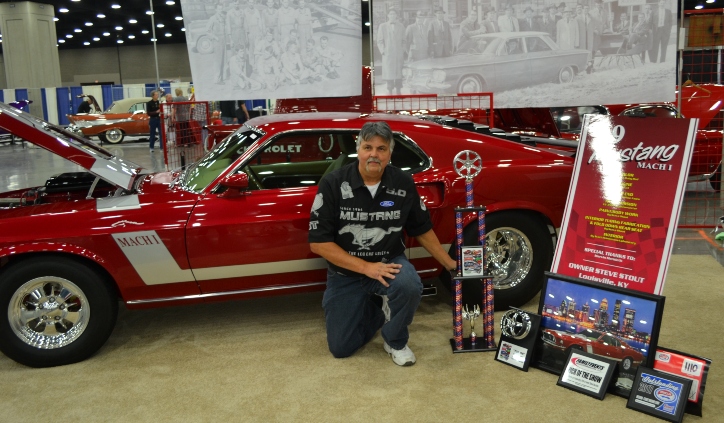 For me personally the story of Steve Stout's 1969 Ford Mustang build is quite motivating. Here is a question for you: If you owned a real '69 Mach 1 for so many years, would you restore it to original or restomod it like Steve did?
Don't Miss Svein's Unique 428 SCJ 1969 Mustang Mach 1 Story