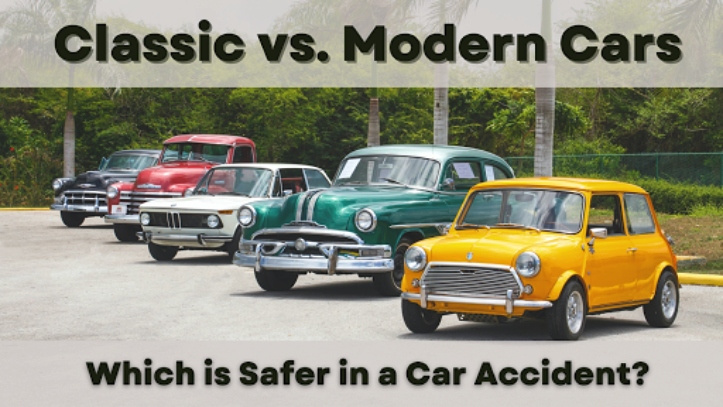 There are a few key things about car safety. Many people believe that older cars are less safe than newer models. The second is that they think they can solve their case independently without any help or hiring a personal injury lawyer. People often worry about what would happen if they were in an accident and how they would be compensated. This article will explore how various types of car crashes can impact injury rates and which vehicle is safer.
Classic vs. Modern Cars 
Older cars are built differently than newer ones. Older cars were not constructed with necessary safety features, leading to injuries in an accident. Newer cars have crumple zones, are more spacious, have power brakes, and other safety features that help minimize damage caused by accidents.
There are countless debates among car enthusiasts about the best type of car. Some people prefer classic cars, while others prefer modern cars. 
What are the differences between classic and modern cars?
One major difference between classic and modern cars is the way they crash. Classic cars have a much higher chance of rolling over in a crash, resulting in serious injuries. Modern cars tend to crumple in a crash, which absorbs some energy from the impact and protects the passengers from injuries.
The most obvious difference is the technology used to design these vehicles. Classic cars rely on mechanical parts, while modern cars use electronic parts. While older cars are much simpler to repair, modern cars are more reliable and efficient.
Another major difference is the safety features equipped in each type of car. Modern cars have a hands-free experience, airbags, crumple zones, and other features that protect the driver and passengers in a crash. Classic cars do not have these features, making them unsafe in a collision. 
What about depreciation? Modern cars lose their value way faster than classic cars do. While it is usually cheaper to maintain a modern car in the first few years of ownership, over time the value of well preserved classic cars will always grow. That is why many buy classics as an investment and even a hedge against inflation.
Factors that affect car safety in an accident
According to a study by the Insurance Institute for Highway Safety (IIHS), there is a significant difference in injury rates between classic and modern cars. There are many factors to consider. Older cars may not have the same safety features as modern cars, affecting how safe they are in an accident. 
For example, airbags are now standard in most new cars. But if you're driving an older car, it may not have this important safety feature. In a crash, an airbag can help protect you from serious injury.
Electronic stability control (ESC) is another safety feature often missing from older cars. ESC helps keep your car stable during a skid, preventing accidents. 
Which is Safer in a Car Accident?
This is a question that's often on drivers' minds, and it's not an easy one to answer. The truth is that the type of car crash can impact injury rates, so one type of accident might be safer than another.
For example, head-on collisions and side-impact collisions are the most dangerous accidents. They can cause serious injuries to the driver and passengers, even if the car isn't moving too fast. 
Another thing that impacts safety is the size and weight of the vehicle. Larger cars are generally safer in a collision than smaller cars. They tend to cause less damage to other cars, offering more protection to their occupants.
Crash Test Data
The Insurance Institute for Highway Safety (IIHS) tests various new cars and publishes the results every year. The tests include everything from crash tests to headlight performance. 
One area where there is a big difference between new and older cars is in safety ratings. IIHS has been testing cars for more than 50 years, and the data shows that modern cars are much safer than vehicles from the 60's years ago. No surprise here.
Conclusion
There are a few factors to take into account. Which car should you prefer? A modern car with bells and whistles? Or a classic car with style, which turn heads everytime you go for a ride.
There are pros and cons to both. A modern car will be more reliable in performance and safety features to most people. But an older car can be a lot easier to maintain for savvy gearheads and it most cases it won't lose its value. 
Ultimately, it depends on your individual needs and what you're looking for in a vehicle. If you want a car to work on as a hobby and go for a ride on weekends, then a classic car is the way to go. But if you're looking for a daily driver, then a new model is probably the better option.