The 1974 Pontiac GTO is not a car you get to see often, especially one like Joe's build. Killer stance, great attention to detail all the way around, and blown dual quad big block powerplant. Show stopping pro street car, that gets driven and comes with a nice story.
Check out the video I did one Joe's 1974 Pontiac GTO build and read his car story below.
This car has been "by my side" through all milestones of young adulthood, middle age and now senior citizen! The 1974 Pontiac GTO is a rare car, just 7,058 were built. Out of those 1,723 were Hatchbacks and the remaining 5,335 Coupes.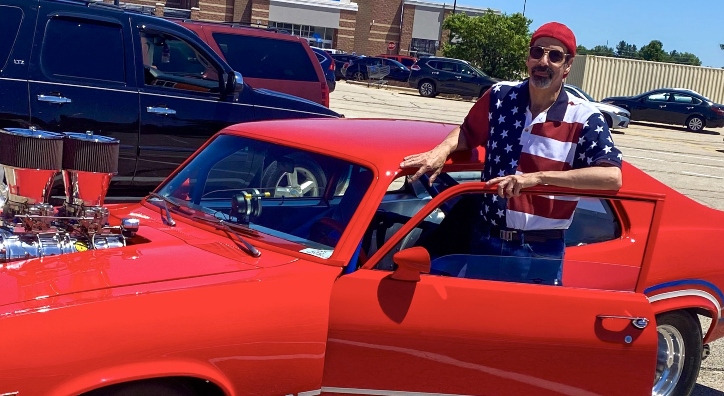 I bought the car in May 1978 – last month of high school. Commuted to two colleges, took girlfriend to drive-in theater, went on road trips with college buddies, started commuting to my career job after college. My 1974 Pontiac GTO took me everywhere.
In 1985 I bought another daily driver since I had a good job now. Started working on the GTO as a project car, learning as I went – I rebuilt the Pontiac 350 with new heads and better cam, swapped in a 12 bolt 3.55 rear. Saw my first pro street build at a car show in 1986 and seeds were planted! Planning in my mind began. Hung around car shows talking to owners of highly modified cars to learn the process.
Six years later I found myself in the wonderful position economically and socially to be able to finally pull the trigger on my dream of transforming the 1974 Pontiac GTO into a pro street car. I had limited ability, and I needed the help of professionals to get the project done right. Gave the car to a friend of a friend to start working on the chassis. That's all he did….START working. I am sure some of you can relate.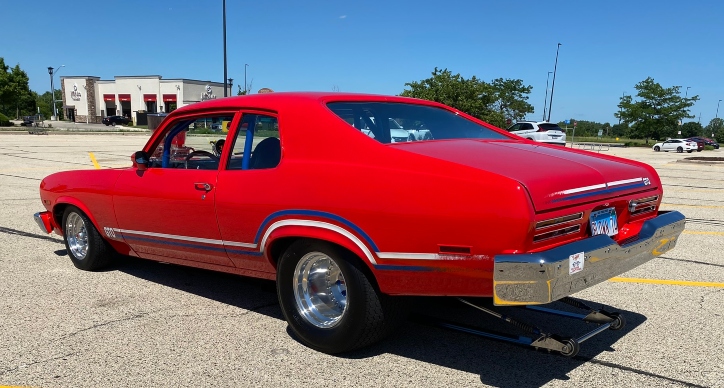 Over a year later I pulled my Pontiac GTO out of his garage and towed it home….in pieces. Found the best, most honest metal worker I've ever known – Bruce Hyman, Metal Magic. He worked very closely with me to assure he did exactly what I desired (and more). He created an aluminum headliner at his own expense just to make the car more unique. His aluminum work was outstanding. He also did a frame-off chassis rebuild for me, tubbed it and had the rear end built for me.
I had seen Al Lombardo at car shows – he had a trailer where he displayed blown street / strip engines that he builds thru his business "Big Al's Toy Box". In 1995 we met at his home office and carefully mapped out what I wanted – a powerful blown 454 Big Block Chevy, but with good street manners and LONGEVITY! He gave me exactly what I wanted! (25 years later, never a mechanical problem!) He estimated that it would make 600hp and I could get more if I overdrove the blower.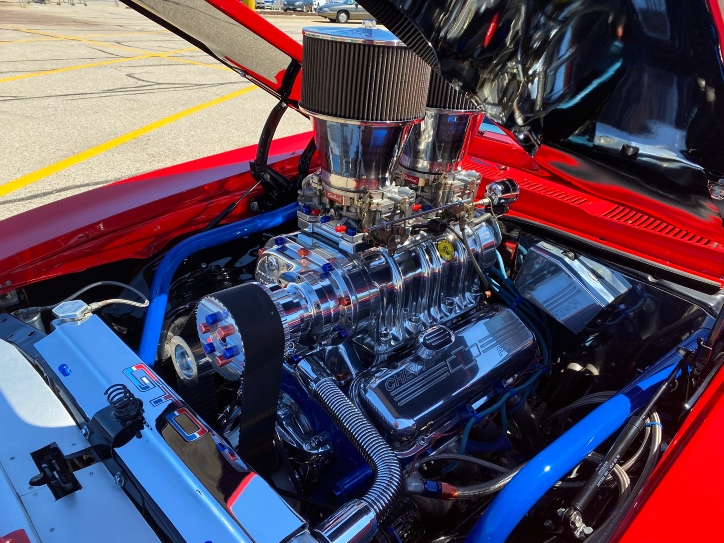 Four months later, the engine was finished. Gorgeously painted / polished / ornamented. Al suggested Uwe Wittcamp for the installation and finalizing any fabrication to finish the GTO. So, I towed the car to Uwe's shop. Again, I met with him and we slowly, carefully discussed my desires and what I needed him to do. I supplied the Turbo 400 which was well built by a friend who really knows his stuff! Uwe's son Brian painted the car, added my concept of graphics, and enhanced it with his own touches.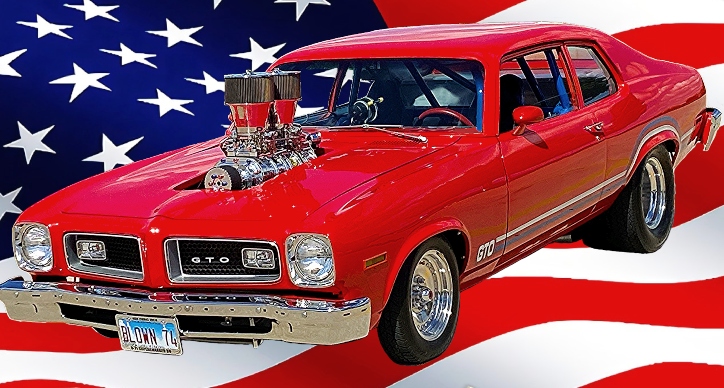 In May of 1997, Uwe and I started the Blown Big Block engine for the first time. In a sense, this was the moment I had waited for all my adult life. After breaking in the cam, we took the GTO for its first ride around the block. What an experience – I will never forget it! I had him drive so I could record the whole thing. He got on it – front end lifted up a little, then tires started screaming and the rear end danced to the right as we screamed up the road. Yeah – good moment!! A few days later, he brought the car to my house on a flatbed. I had about two weeks' worth of finishing to do on it before taking it to my first car show.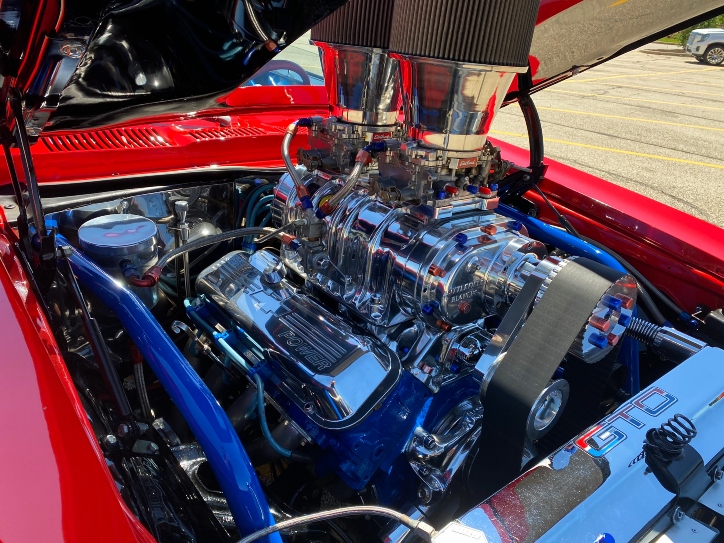 Since then, I've been to over a hundred car shows and many more cruise nights and have accumulated about 70 trophies / awards. Had several articles written on it by local car clubs, organizations and newspapers. After 25 years I can say that all the friendship, smiles and stories shared at car shows or wherever I drive the car has been far more valuable than the money I spent to build the car. What a fantastic hobby! As for the GTO – till death do us part – now let's see which of us dies of old age first! LOL
Check out Joe's YouTube channel
1974 Pontiac GTO specs:
1970 Chevy GEN IV LS7 block (454 + .060) 468 CID, 8.5:1 Compression forged TRW blower pistons, Speed Pro rings, Clevite 77 bearings, Steel LS7 crank (Double Keywayed), Four bolt mains Campbell Enterprises H-beam rods with 7/16-inch bolts, COMP Cams 520″-520″-292° roller cam, 3/8-inch pushrods, roller lifters, ported and polished rectangular port iron heads, 3-angle valve job.
Littlefield 8-71 teflon-stripped supercharger, 6% underdriven (34 teeth on crank pulley, 36 teeth on blower pulley), approx. 8-10 pounds of boost @ 6000 RPM, Weiand blower intake, Dual 750 CFM Edelbrock Performer 4-barrel carburetors, Holley "Blue" electric fuel pump.
Modified TH400 automatic transmission with 2,800 stall 11″ torque converter, reverse pattern, manual valve body, Turbo Action Cheetah SCS shifter. Narrowed Ford 9″ rear end, Mark Williams narrowed chrome molly housing, Strange nodular center section, Lenco locker differential, 3.89 Richmond gears, 35 spline Moser alloy axles, Chassis Engineering ladder bars, AVO coil over shocks.
Did You See the Blown 350 Small Block Pontiac Firebird Story?