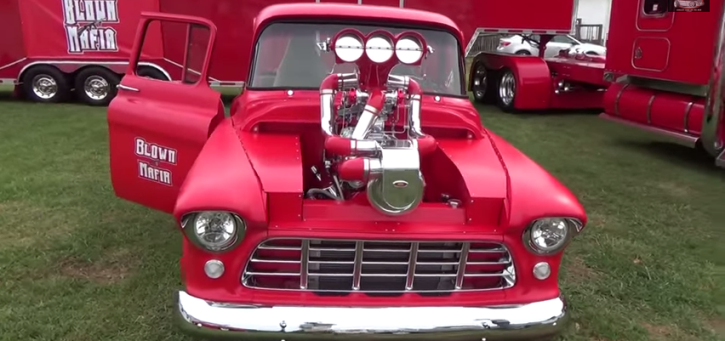 Outrageous Chevy Pick Up by "Blown Mafia".
This bad to the bone 1956 Chevy truck is just one of the awesome toys parked at Blown Mafia Bradley's house. For those of you who are not familiarized with his highly modified muscle cars and trucks I would mention that he has built the Twin Turbo Supercharged 1969 Camaro Nitrous Breathing Monster, which was all over the net about 12 months ago, a Triple Supercharged race car and few more mad Chevy trucks. This particular pick up is powered by a 462 cubic inch Big Block motor with F2 Pro Charger and 871 Blower…I know it sounds totally nuts, but it works.
Check out the video to learn all about this sick Chevrolet. Watch, Enjoy & Share!
More On Hot Cars: Chevy C10 Truck With Airplane Engine