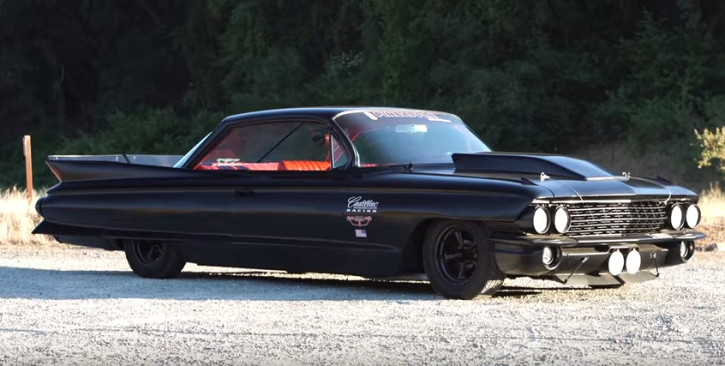 1961 Cadillac De Ville Race Car…Wicked!
If you have been into the hot rod and custom muscle car scene long enough, then you have seen trends come and go. What do you do if you have spent serious amount of cash on a project car 10 years ago and you don't like it as much anymore? You change cars…or you just change the car?
Willie Taitano has owned over 300 cars in his life and at least 120 of them were Cadillacs. He gets bored real quick, but he always wanted a 1961 Cadillac De Ville and one sunny day Willie finds one for sale in Vegas. He buys it, droves it home and start working on it. Willie names it Mary Jane and if Satan marries a girl this 1961 Caddy could be her car.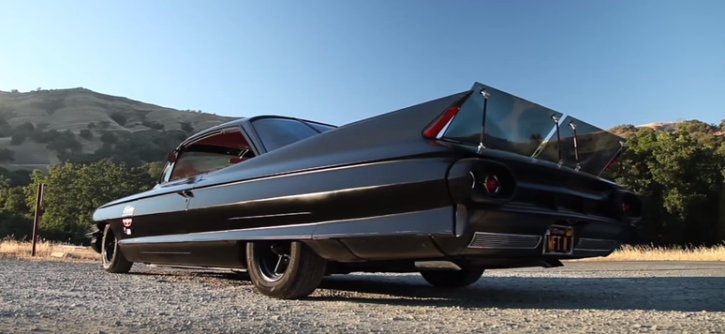 He has done a variety of very uncommon custom jobs on it totally changing its original appearance, but he loves it, he doesn't care about anyone's opinion and he uses it as a daily driver. Today Willie's custom 1961 Cadillac De Ville is all black, lowered to the ground with sick red alligator skin interior and packs a 472 Big Block V8 pushing about 400 horses and 500 pounds of torque controlled by a 3-speed Turbo 400 tranny. Wicked right?
See the video to hear all about this custom 1961 Caddy from Willie & Mike. Watch, Enjoy & Share!
[sdonations]1[/sdonations]