Jeff Anesetti is as passionate about Mopars and drag racing as it gets. Check out the video I put together for his awesome race car and read the full story of the 1972 Plymouth Duster "Miss Behaven" below.
Branch Manager for RL Carriers by day and Drag Racer by night Jeff Anesetti is as passionate about Mopars and racing as it gets. His beautiful 1972 Plymouth Duster a.k.a. "Miss Behaven" has started out as a build project back in 1980 as it was purchased on a lien sale for $700 Dollars.
"It remained in the garage for a while until my wife have me the ultimatum"the car goes or I go" Well the car stayed…and so did the wife. I basically ended up with the best of both worlds as she started to get into car building and racing with me"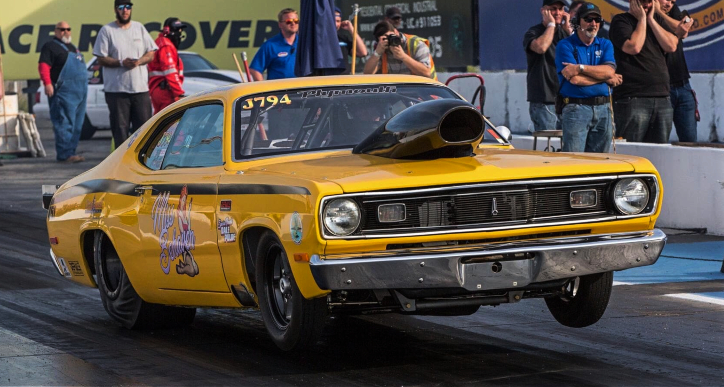 The "Miss Behaven" 1972 Plymouth Duster has attracted many fans and folks who just love the look and enjoy watching it run. Its just a complete one of a kind car at the track among all the door slammers. It has an all steel body with glass hood and deck lid along with steel factory bumpers and doors combining the restored look with a Nostalgic twist.
The custom paint is a mix of Mopar Yellow darkened up with Gold metal flake added. The 1972 Plymouth Duster factory strips are duplicated to carbon fiber to match the carbon fiber scoop, wing and dash. All tin work was hammer powder coated Silver and Black achieving a nice contrast. Then Jeff and the crew have added the Black 16×16 inch funny car wheels with 33x16x10.5 M/T tires and tucked them to get the look they wanted to.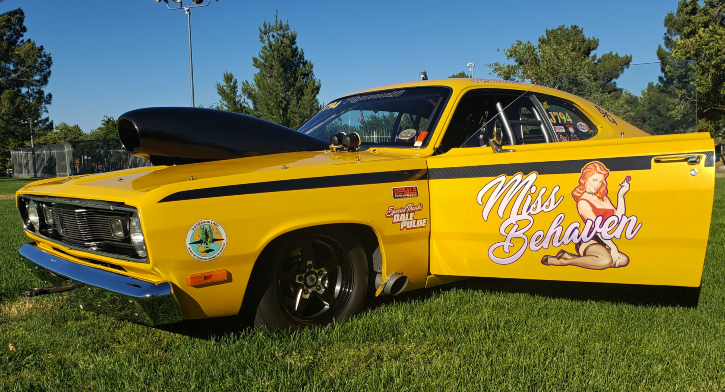 The "Miss Behaven" Plymouth Duster name goes back to Nostalgic Funny Cars as Jeff has always been attracted to this style. He believes the names and logos on the side of the cars made racing much more fun. "Miss Behaven" is also reminiscent of WWII B-17 Bomber nose art and since both Jeff's Dad and Son are in the air force it felt fitting to bring back old Nostalgic nose art to Door Slammer cars in this fashion.
The 1972 Plymouth Duster packs a Mopar 400 low deck (451 stroker) and with a very mild tune makes 850hp at 36 degrees of timing. It has fully ported B1 heads that flow well into the mid 430's With T&D Rockers, 890 lift Reed Roller cam, 15.1 JE Pistons, Superstock crank lightened, Groden rods, 950 tuned Dominator carb with Vacuum Pump and Jesel belt drive.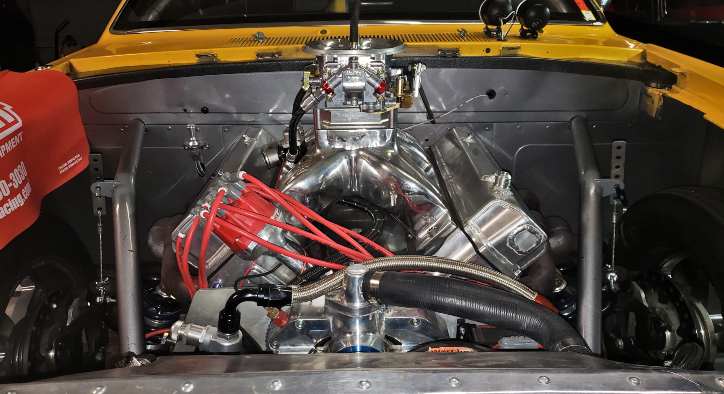 Legendary Dale Pulde (War Eagle Racing) has helped a lot, sponsored some of the build and provided many of the parts. Without him and all his motor knowledge my 1972 Plymouth Duster would still be in the build stages, shares Jeff. He also wanted to Thank Bill Hickok Racing who built the complete chassis and to Dave Murry and Dustin Lee Racing Engines for helping with the build and tune as well as his current sponsors Derale Performance, CleanBoost and Aeromotive.
"Some of my best memories were building the 1972 Plymouth Duster back in the 90's, pulling wheelies at stop lights, driving to Los Angeles County Raceway (LACR) to race after work and enjoying fun late nights at the track"
Don't Miss Ronny's Plymouth Sport Fury 496 Stroker Build Story