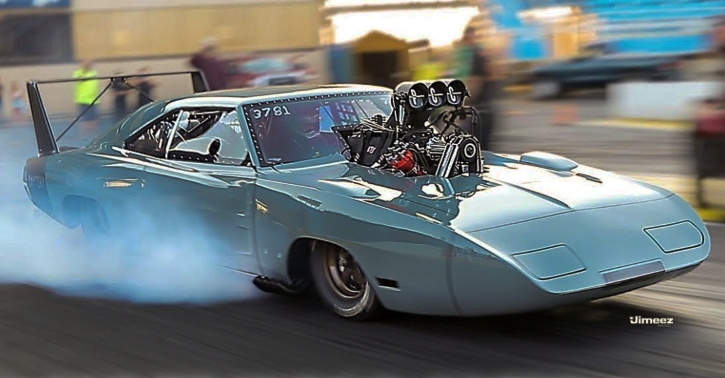 Garage Squad's Joe Zolper attracted plenty of attention when he revealed the "Dauntless" 1969 Dodge Daytona and made the crowd go wild during the 3rd season of Street Outlaws No Prep Kings. I mean the combination of destroyer grey paint, black wing and 521 cube HEMI V8 mill topped with a massive blower is guaranteed head turner, so no surprise.
However, Joe Zolper didn't perform as great as everyone expected at the Route 66 Raceway, but there are plenty of reasons for that. The "Dauntless" 1969 Dodge HEMI Daytona has different suspension, bigger slicks and Joe is used to leaving on yellow lights just to name a few.
Well, considering that there was only 2 full passes on the car before this event I'm pretty happy with Dauntless Daytona. Also I can cut down a tree! BUT! I couldn't see the instant green in my car until we made seat changes before last round. Commented Joe after the event.
I know many will say these are just excuses, but I'm sure Garage Squad's Blown '69 Dodge Daytona will be all dialed in for the next Street Outlaws No Prep Kings event on September 20th in Norwalk, Ohio where Joe confirmed he will be competing. So check out James Hrovat video and stay tuned!
---
You May Also Like the "Miss Behaven" Plymouth Duster Video
---