Originally from Hawaii, but currently living in Travelers Rest, South Carolina. Ben Sambrano a.k.a. Manapua is a Chevy guy, who always wanted a Mopar. He has acquired this menacing 1969 Dodge Dart 408 Stroker build as a turn key muscle car in 2018 and has no regrets. Check out the video story I put together for Ben and read more below:
When Ben "Manapua" Sambrano purchased the 1969 Dodge Dart, the 360 motor stroked to 408 cubes was already in place. The engine was built in North Carolina and dynod at 615 horsepower. As most of the car guys, Ben wanted to personalize his new toy and of course get some more power.
He did a few custom touches to the interior like the carbon fiber roll cage and rebuilt the transmission. A 250 shot of Nitrous from NX Express giving the Mopar extra 150-200 horsepower was also added.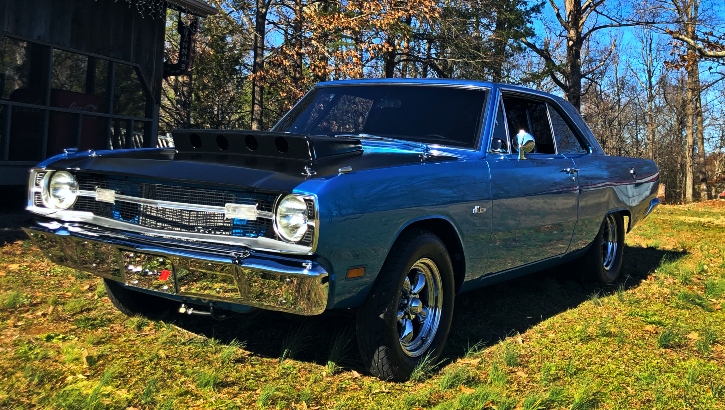 The potent 408 Stroker under the hood of Ben's 1969 Dodge Dart is dressed with roller cam, roller rockers, aluminum heads (head work) and Holley 750 CFM carburetor. The power is sent through 727 trans with reverse valve body and 3000 stall converter. The 1969 Dart is mini tubbed and has 9-inch Ford rear end with 4.11 gears. Another upgrade Ben is going to add in near future is trans brake.
You May Also Like Hank's 1969 Dodge Dart 416 Stroker Story