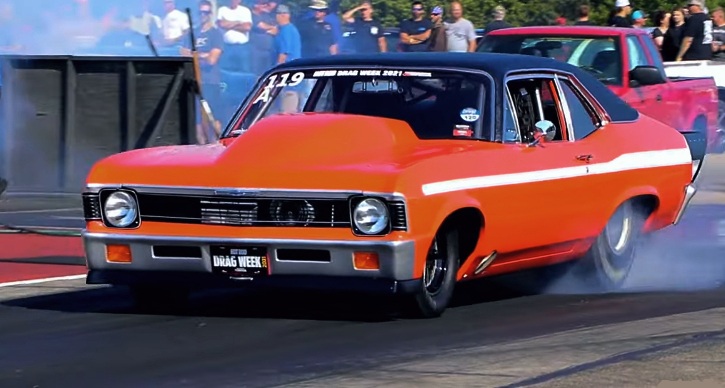 Jason Sack's 1969 Chevy Nova is the kind of car that makes me enjoy the Hot Rod Drag Week events so much. Immaculate Hugger Orange body with White stripe and Black vinyl top, the "Cowboy Up" Nova has the look of a show car. But the huge 33″ truck tires at the rear tells you this thing is all business, even before you see the giant turbo hiding behind the grill.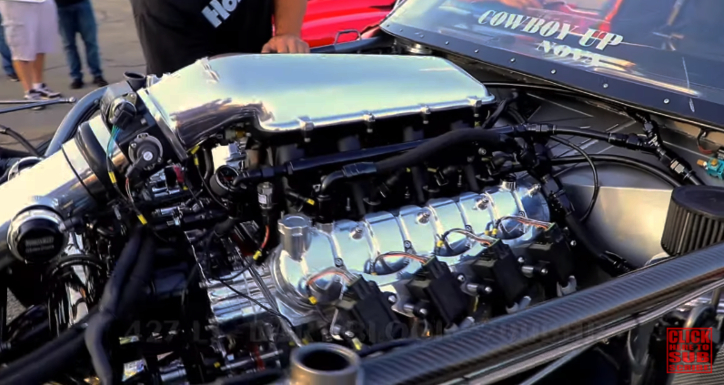 The "Cowboy Up" 1969 Chevy Nova packs LS based 427 Dart block that looks as clean as the rest of the car and is boosted by a single 102mm turbocharger to push 2,000hp on 30lbs. The power is controlled by Rossler Turbo 400 trans and 4.10 geared 9-inch rear end. Driving the beast from track to track, Jason Sack's current personal best is 7.29 at 185mph.
Play my man James Hrovat's video to see the Cowboy Up Nova at Byron Dragway.
You May Also Like the 2500hp Chevy Nova at Hot Rod Drag Week