Towards the end of 1965, Shelby American had to start working on their 1966 GT350. But that was when the San Jose Ford Assembly plant temporarily closed, so Shelby American ordered 250 K-code '65 models to make sure they would have enough cars to work on until the 1966 Mustangs arrived. Those 250 cars plus 2 prototypes (6S001 and 6S023) are known as Carryover cars, some enthusiasts refer to these as early 66 or 65½ cars. And boy, when Coy Harvey stumbled upon a '66 Carryover Shelby GT350 tucked away in a garage, he knew it was like hitting the jackpot!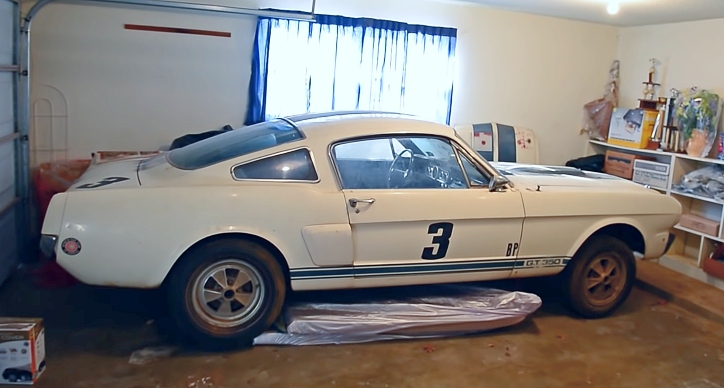 Left untouched since 1979, this 1966 Shelby GT350 has a fascinating history. It belonged to Malkin, a speed-hungry enthusiast who once raced this beast in '75. Once the checkered flag waved goodbye, the car found refuge in the garage, draped with blankets and kept safe by the owner's wife ever since his passing. Now, after forty-four long years of hibernation, the car is destined to stay within the family, passing down the generations.
The old dusty documents reveal that it boasted a stock 289 engine, equipped with a BorgWarner T-10 transmission, and had a mere 24,000 miles on the odometer. I'm not entirely sure about the car's condition now, but Malkin's wife had plans to restore it, turning it into a mean Sunday driver and taking it to car shows.
So, my friends, play the video below and let your eyes feast on this extraordinary time capsule!
Did You See Paul's Shelby GT350 R Mustang Build Story?